Are you familiar with the hot spring in Japan? In maps, have you seen signs such as ♨, 湯 (yu, meaning "hot water"), and ゆ (yu)? Did you know that there are thousands of hot springs in Japan? In this article, we will discuss the origin, etiquette, benefits and even the best of the best Japanese hot springs. Here we go. 
In Japan, the term hot spring is called onsen (温泉). The bathing facilities and spots that have been using natural hot spring water, also labeled as onsens. Approximately, there are 3,000 onsen resorts scattered all over Japan, due to the country's 111 active volcanoes excluding the extinct volcanoes (data from Japan meteorological agency). 
So, when did it all started? Let us go back to Edo period. Hot spring in Japan became known to the common people. Basically, they bathed on the actual hot spring but as time passed, developments were created to distribute the geothermally heated water to bathing facilities. Even visitors such as the Germans were attracted and amazed by this bathing type. It was also discovered that onsens can act as a therapy and can cure illnesses and injuries. Somehow, this tradition is alive until now and it is very true and plausible that this will give a person a calm and relaxed mind.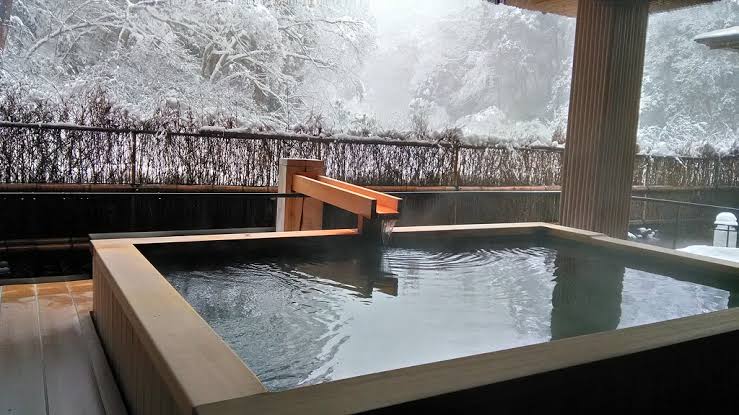 Hot Spring In Japan: Types of Onsen Water
Sulfur onsen (硫黄泉 iō-sen)

– known for milky color. It is said that this can treat skin diseases and arthritis. 

Sodium chloride onsen (ナトリウム泉 natoriumu-sen)

– known for making the skin healthier for the water properties are very gentle, especially to sensitive ones. 

Hydrogen carbonate onsen (炭酸泉 tansan-sen)

– known for bubbly water that is very fine on the skin. 

Sulfate onsen

– known for it's acidic and sulfate mineral hot spring. 

Radium onsen

– this onsen is rare and pricier than others due to the rare mineral called radium. 

Iron onsen (鉄泉 tetsu-sen)

– known for the rusty colored water. This spring helps the body to retain heat and beneficial to anemics if the water is consumed, replenishing the body's iron levels. 

Alkaline onsen

– suggested for females for it is believed this spring can give them more femininity.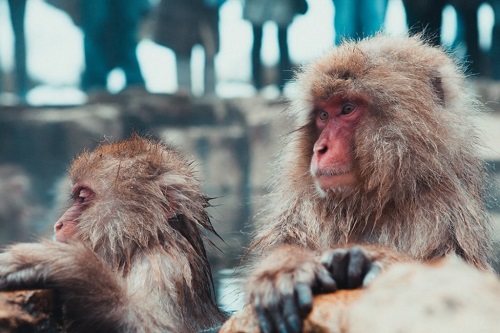 Benefits of Bathing in Hotspring In Japan
Hormone Secretion – when minerals enter the body, hormones function normally. 

Stable body condition – the nerves, blood, heart and blood sugar will benefit making the body heal itself. 

Heal sickness and fatigue even muscle pains, joint pains, and arthritis 

Moisturized skin, which is good for eczema and dermatitis.

Good perspiration

Waste and toxins discharge

Improved blood circulation

The body becomes lighter for the muscles are loosened and relaxed
Overall, because of such factors, there is no doubt why onsen makes you more relaxed after a tiring day. But where can you find the best onsen in Japan to experience those various benefits? Here is a list of 7 onsens in Japan, which are considered the best place to unwind and famous among tourists, foreign workers and foreign students in Japan for their majestic water and magnificent views.
7 Best Hotspring in Japan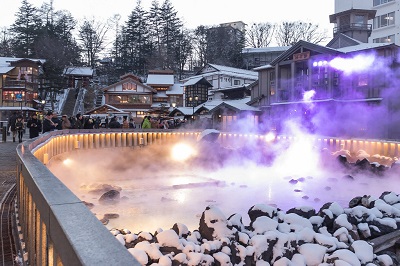 1. Kusatsu Onsen 
The Kusatsu Onsen in Gunma, Kanto is famous and is very proud of it's acidic and high antibacterial water that is said to cure anything except heartbreaks. There are some hot springs which are free of charge. There is also an ancient bathing ritual being done here. Kusatsu Onsen has also ryokans or traditional inns where you can clear your mind after a busy day. 
2. Yufuin Onsen 
Yufuin Onsen in the Kyushu region offers not only blue-colored hot springs but with the wonders of creation around the region. Some of these are the Kyushu mountains and Mount Yufu which is very famous for its twin peaks. The onsen is very famous for ladies who are very interested in the moisturizing effects of the hot spring. 
3. Hakone Onsen 
Hakone Onsen in Kanagawa prefecture is just two hours from Tokyo. The hot spring is especially known for its view of Mt. Fuji. This great place is very fit for busy people from Tokyo to unwind. 
4. Fuji Kawaguchiko Onsen 
Fuji Kawaguchiko Onsen in Yamanashi prefecture is located just at the base of Mt. Fuji. A perfect picture is the best way to describe especially if you want a closer look at the mountain. The best time to visit here is in the spring season, which is the time for the sakura to bloom beautifully. 
5. Dogo Onsen
Dogo Onsen in Shikoku Island is the most vintage thing you can find in Japan when it comes to hot spring. It was established 3 millennia ago. The main bathhouse which looks like a wooden castle is a must go for people who like old places. 
6. Nyuto
Nyuto is an onsen village in Akita prefecture. The hot water has a blue and milky color which is very known for its moisturizing power for the skin. Some people who visited there recommended that winter is the best time to go there. Why? There is no greater experience than to dip in the onsen while snowing. 
7. Beppu Onsen
Beppu Onsen in Oita prefecture is known for its 2000 hot spring sources. This onsen is also famous for "Beppu Hatto", which is the term used for the eight areas found in the hot spring. There are a variety of baths here which include mud baths and sand baths. For the best experience, you should try the onsen eggs which are boiled or steamed in the spring water. This specialty is said to be good for your health. 
Another thing you need to know if you want to experience this type of bathing is to behave. Why? Because Japan has several etiquettes and manners to follow when taking a bath in an onsen. Therefore, it would be better to know those unacceptable behaviors, especially if it is your first time to visit one of Japan's onsens.
What NOT to do in a Hotspring in Japan (Onsen)?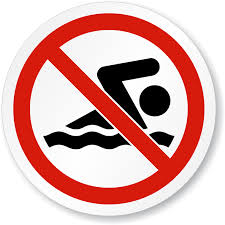 No swimsuits inside the bathing tub. You should go to the bath naked. This is a Japanese tradition so you have to follow. You do not have to be ashamed because people don't really care. Though the onsen facilities provide a towel for drying your body, you should not dip in the hot waters with the towel. This is very unethical. 
No swimming. Japanese people go to the onsen to relax their minds. You do not want to disturb them by doing swimming tricks. 
No unshowered body is allowed inside. Be tidy. Before entering the actual bathtub, you have to clean your body first in the shower room. Soap and shampoo are usually provided. Please take note that you should rinse all the soap and bubbles before entering the hot spring. Very convenient right?
No running for everyone's safety. The floor is slippery due to the minerals and natural salt of the water. That is why you should walk slowly. 
Do not drink alcoholic beverages before going to the hot spring. Why? Because the temperature inside is 40 degrees and beyond. So it is not advisable to be drunk before entering because this can cause high blood pressure. Think of your health first. 
No bringing of dangerous things inside such as glasses which can cause accidents. 
Do not talk loudly. Observe silence. You can talk with a relaxed and minimum volume of voice. This is a courtesy to other onsen lovers inside. 
Tattoos are prohibited. Some onsens do not let people with tattoos inside. 
After soaking, do not enter the locker room wet and dripping. You should dry your body before entering the locker room to minimize wet floors and to help the staff in cleaning. 
No food and beverages inside. Bringing food and beverages inside is prohibited.
After you have learned the hot spring or onsen in Japan, its types, benefits, and how it became a part of the Japanese culture, for sure, you will be delighted to visit one of those beautiful onsens in Japan. However, you should be mindful to consider those proper manners, and you will surely enjoy your onsen bathing experience. Plan your visit now!
FAIR Japan provides useful information about Japan.