A worldwide pandemic occurred early this 2020 – the coronavirus. All plans are on-hold and, unfortunately, all flights were canceled. You are stuck at home and wondering when you're getting out again. We feel the same. But to lift your mood and to stay positive despite such challenging times, why not list down all the food you want to encounter on your future trip to Japan?
This is a good idea since not only finding the best places to visit in Japan a challenge for first-timers, but it is also quite a challenge to find food that would be worth your taste and budget.
Are you a street-food lover?
Well, the good news is, there is a whole world of street food to uncover in Tokyo. You will find a variety of traditional and modern Japanese cuisines on shop stands called "yatai" in Japanese. Yatai is typically a wooden cart on wheels, equipped with kitchen appliances and seating that can be transported and set up in the early evening on pedestrian walkways and removed late at night or in the early morning hours.
Therefore, if you feel like saving up a budget for all the food you want to try out, allow us to guide you through what Tokyo's street food haven has to offer with its typical price.
1. Ningyo-yaki (Doll Cake)

Doll Cakes are sweets in which the batter, made from flour, eggs, and sugar water, is poured into a mold and baked. There is also a sweet filling in the middle that comes in a variety of flavors, including red bean paste, custard cream, and chocolate. They come in various shapes and sizes, and in character forms (like Doraemon or Hello Kitty).
For example, Taiyaki is a fish-shaped cake, a traditional Japanese pancake. Unlike the classic pancake, it is crispy outside and comes with a sweet filling while Imagawayaki molded to spherical shapes. For sure you'd take a pic before having a bite of such creative snack.
Typical Price:  500 JPY (for 7)
Where: Narita Airport; Haneda Airport; Chubu Centrair International Airport; Tokyo's souvenir shops; Tokyo's popular tourist attractions
2. Harajuku Crepes
Photogenic! Or you can probably say it is one of the most Instagrammable snacks in Tokyo. Crepes are said to be an "exemplary representation of Tokyo's most vibrant and eccentric neighborhood".
This is what has come to be known as the "Japanese crepe", a rolled-up version of the French classic in which a very generous amount of various fillings is added. Having a crepe is a must-do thing in Harajuku. Who would want to miss this?
Typical Price: 200-500 JPY
Where: Harajuku area – Marion Crepes or Santa Monica Crepes
3. Choco-Banana
Well doesn't this look fun to eat? A chocolate-coated banana dessert covered in colorful sprinkles is indeed a must-have treat in Tokyo. On the other hand, this delicacy is something anyone else can simply create. There is almost a lot of available recipes online. But if you can find vendors who sell this street food delight, you can have a taste for starters.
Food stall vendors offer this snack in various kinds of chocolate – from milk chocolate to white chocolate. What chocolate flavor would you prefer?
You can also make this fun dessert at home with your kids (if you have one).
Price: 200 JPY
*If you have a hard time finding vendors that sell chocolate banana in Tokoy, Fukuoka is one of Japan's cities where this is well-known.
4. Matcha
Matcha is a world-known fine ground powder of specially grown and processed green tea leaves. The traditional Japanese tea ceremony centers on the preparation, serving, and drinking of matcha as hot tea, and embodies a meditative spirituality. But today, Matcha is prepared in a variety of ways – from ice cream gelato, KitKat, doughnuts, to frappes, and even beer.
There are more shops to visit various Matcha flavored food and drinks in Tokyo that are off the street.
Typical Price: 200-350 JPY
Where: Nanaya Aoyama, Shibuya City, Tokyo | Suzukien Asakusa,  Taito City, Tokyo 111-0032
5. Daigaku Imo

Sweet potatoes are one of the best Tokyo street food options. But when chopped into chunks, deep-fried, and glazed with caramelized sugar or honey, it can be utterly irresistible.
Served hot with a sprinkle of black sesame seeds, it's cheap, nutritious and delicious.
Typical Price: 700 JPY (400g)
Where: Chibaya, Asakusa (residential area)
6. Tamagoyaki
Tamagoyaki is a type of Japanese omelet, which is made by rolling together several layers of the cooked egg then served on a stick. It is usually seasoned with sugar, mirin, and soy sauce often prepared in a rectangular omelet pan called a makiyakinabe.
With a slightly sweet taste and custardy texture, tamagoyaki is well-loved amongst the Japanese children and adults alike. For this reason, it can often be found in bento boxes, and it is traditionally served either for breakfast or as a sushi topping.
However, you don't have to visit Japan to have a taste of their version because how Tamagoyaki is being prepared is all over the internet. You can easily cook it and even have fun making your version.
Typical Price: 100 JPY
Where: Marutake, Tsukiji's Jōgai, Outer Market
7. Menchi Katsu
Menchi Katsu is a hambagu (Japanese-style Salisbury steak) that's breaded in panko breadcrumbs and then deep-fried. Simply speaking, this western-style Japanese food is a ground meat cutlet (a combination of beef and pork) cooked with sautéed onions. This is a snack known to be tender and juicy even on the first bite. Although Menchi Katsu is already delicious on its own, to add up the fun, it may be served with tonkatsu sauce.
This is yet another food you can create from home with recipes also available online.
Typical Price: 220 JPY
Where: Satou Steak House
8. Mitarashi Dango (rice flour dumplings)
After being grilled over charcoal, typically, three to four dumplings served on a bamboo skewer with a gorgeous coating of sweet and gooey soy sauce glaze.
Mitarashi Dango is one of the best cheap eats in Tokyo! Have a taste of the complimenting sweet and salty experience, and this bite-sized goodness might just become a new street food fave.
They're a year-round snack, with different varieties being more popular according to the given season. Most go well with green tea.
Typical Price: 100-150 JPY
Where: Temple areas in Tokyo
9. Ikayaki
"Ika" means squid, while "yaki" means grilled.
A whole, entire squid served straight off the grill on a stick and gently flavored with sweet soy sauce. This can be an appetizing meal simply cooked and coated with soy sauce. But the natural taste of the sea serves you a surprisingly flavorful experience.
Typical Price: 170-500 JPY
Where: Local wet markets; Tsukiji Fish Market; Outer Market area
10. Yakitori
Yakitori can be translated to "grilled chicken," from the Japanese words yaki (grill) and tori (chicken). Its preparation involves skewering the meat with Kushi, a type of skewer typically made of steel or bamboo. After, they are grilled over a charcoal fire. During or after cooking, the meat is typically seasoned with tare sauce or salt.
You can find Yakitori everywhere in Tokyo. Either way, they're a street food classic and must not be missed! Here are the popular types of Yakitori:
Negima
Mune
Momo
Sasami
Tsukune
Tebasaki
Reba
Hatsu
Sunagimo
Bonjiri
Torikawa
Typical Price: 100-200
Where: Shinjuku Omoide Yokocho (Memory Lane\Piss Alley).
Japan's Famous Healthy Snacks
11. Onigiri
We can't forget sushi of course! But how about a snack related to our all-time favorite?
However, bigger than sushi, this iconic Tokyo food usually comes in a triangular form. There's that thin layer of crisp seaweed wrapped around a tightly-packed mouthful of rice, often with a savory filling on the inside. This is a snack preferred for traveling.
Typical Price: 100-250 JPY
Where: You'll find onigiri shops inside railway stations and convenience stores around the city.
12. Okaki (rice crackers)
These super-crunchy rice crackers can be eaten on the spot or taken to go as they have a long shelf life. Some are soaked in soy sauce, while others come wrapped in seaweed. Shapes vary as well.
There are also spicy versions that come coated in red pepper. There is a Nure Okaki version known as wet rice cracker, the Tamagosenbei, or the Takosenbei.
(Did you know the traditional way of cooking senbei is by grilling it over charcoal? Please make your content more appealing to the readers just like your previous article.) Thank you!
Typical Price: 200-300 JPY
Where: Sendagaya wood 3-37-16 | 3-33-9, Sugamo, Toshima-Ku |  1-13-4 Asakusa, Taito-Ku |  1-9-13 Azabujuban, Minato-ku
13. Tempura
One of Japan's most world-renowned delicacies! The golden perfection comes in many mouth-watering forms; there's the classic Shrimp Tempura, other seafood varieties, and even vegetable tempura.
It is a batter-coated, deep-fried snack super thin, super light, crispy and incredibly flavorful.
Typical Price: 100-150 JPY
Where: Shinjuku food markets
14. Takoyaki
The name translates as "octopus fried," but that doesn't fully describe the treat. These balls of batter are filled with green onions, ginger, octopus and tempura pieces, and are then finished in the frier. Takoyaki is often topped with a spiced, savory sauce and fish shavings.
(Takoyaki is available outside Japan and can also easily made at home. But was it more exciting to try this food to the place where it first introduced? This appetizer was first popularized in Osaka…)
Typical Price: 400-600 JPY (good for 8 pax)
Where: Gindaco, Tokyo
15. Oden
Oden is the best comfort food and the perfect antidote to those cold wintry nights in Tokyo. Oden refers to a wide assortment of stewed ingredients, from fish cakes to tofu, from meat to vegetables, cooked in a rich, flavorful dashi-based broth.
Oden is custom-ordered so you get to pick and choose exactly what you want. Prepare to be incredibly warm and incredibly satisfied!
Typical Price: 100-300 JPY
Where: Maruken, Suisan
16. Shoyu Ramen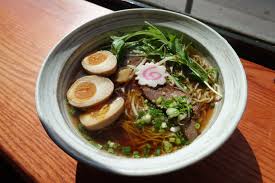 We can't also miss out on having street food Ramen, right? So, you might find an eatery, with standing tables on the sidewalk, serving awesome looking blanching yellow noodles in steaming hot soup with four slices of pork, some leek and sprouts to garnish, lastly, raw minced garlic on top.
Price: 650 JPY
Address: Chuka Soba Inoue/4-9-16 Tsukiji, Chuo-ku, Tokyo, Japan
17. Yakisoba
"Fried buckwheat" is a Japanese noodle stir-fry dish. Although soba means buckwheat, yakisoba noodles are made from wheat flour and are typically flavored with a condiment similar to Worcestershire sauce.
The dish first appeared in food stalls in Japan during the early 20th century and up til now, it is a trend on the streets aside to well-known restaurants.
Typical Price: 350-700 JPY
Where: Asakusa (near No.6 exit, shopping street)
These are just 17 of the must-try street-foods that are budget-friendly and worth tasting, but actually, there's a lot more to discover in Japan, particularly Tokyo. Most of such can also be made at home when you get bored during the long quarantine situation. When you try the recipes to one of these, you might feel like your in Japan even from home. But the better experience awaits for you only in Japan.
FAIR Japan provides useful information (for work and study) about Japan.