In every corner of Japan, you will find some sites undeniably worth exploring and truly a must-share. Therefore, you should not miss every click of your camera with this list of Instagrammable places in Japan.
Apart from the stunning natural attractions in the country, multiple temples, you will also be amazed by Tokyo's neon lights at night. No doubt if you stumble across those sites, you will definitely take your camera out to capture some pictures to share on Instagram.
So here are the 20 popular places in Japan that are worth capturing. Read on!
1. Fushimi Inari Shrine, Kyoto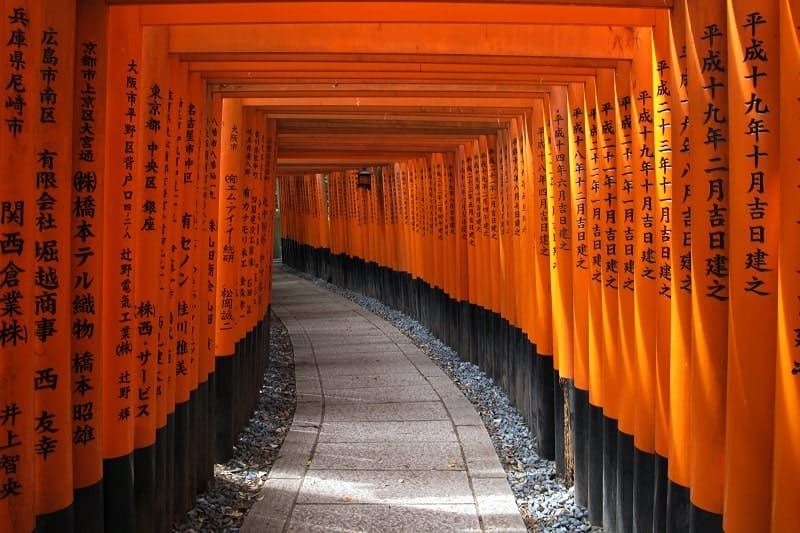 You can hardly find another place that would better represent the aesthetics of Japanese culture than the Fushimi Inari Shrine. Obviously, it's dominant colors contributes to the traditional vibe you might be into. 
This reputable destination is officially known as the most visited by tourists in all of Japan. Due to this fact, it would be a better idea to get there early; so as you strike a pose, you won't have a hard time with a crowd of people passing by. 
For an Instagram-ready look, visitors may rent a beautifully colored kimono. That would be fun but in a traditional way. 
Address: Kyoto Prefecture, Kyoto, Fushimi Ward, Fukakusa Yabunouchicho, 68
2. Arashiyama's Bamboo Forest
Here's to a breath of fresh air! Bamboo Forest, or Arashiyama Bamboo Grove or Sagano Bamboo Forest, is a natural forest of bamboo located on the western outskirts of Kyoto.Japan.
The forest is comprised mostly of Moso Bamboo and consists of several pathways for tourists and visitors. Have a moment to meditate as you walk or even a bicycle ride through the 500-meter path. But be sure to come early if you do not want to share your space with thousands of other visitors ruining your Instagram shots. 
You can also dress up in a kimono or rent a human-driven rickshaw. The driver will take you to the best spots and even take a photo for you.
If you want to enjoy a sense of December, that's a good idea; you'll find the pathway illuminated by traditional lanterns for the annual Arashiyama Hanatoro event.
Address: Japan, 〒605-0028 Kyoto, Higashiyama Ward, Bunkicho, 61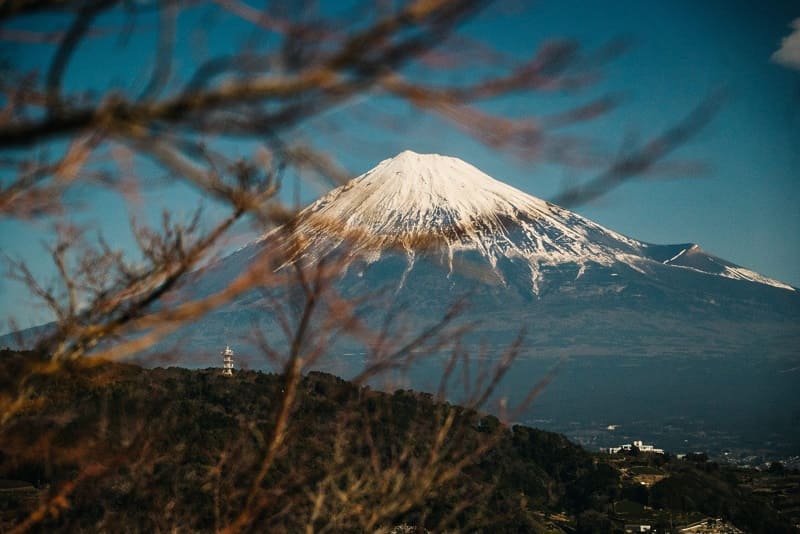 Mount Fuji, the country's tallest peak, a pilgrimage site for centuries, and one of Japan's three sacred mountains; this should never be taken off of anyone's bucket list. 
There are hundreds of spots from which you can take a photo of this work of art. However, the beauty of the Chureito Pagoda complements well with Mount Fuji. It's evident in the picture you're seeing now.
Come either in the cherry blossom or the red leafs period to get the best Instagrammable photo setting.
Address: 3360-1 Arakura, Fujiyoshida, Yamanashi Prefecture 403-0011
Feel the spirit of Japan's tradition in the old Geisha district of Gion, Kyoto. 
Yes, you can get a chance to see Geishas around the evening. If you are desperate to get them on to your Instagram Feed, the Pontocho alley or the Hanamikoji Dori around 6 pm is your best chance. That is actually the time where they head off for their evening performance. Make sure your camera(s) is always ready.
Another way to enjoy the life of Geisha is getting on a special Geisha tour, you will be taken to three of  Kyoto's Geisha districts – Gion, Gojo Rakuen, and Miyagawacho.
Address: Higashiyama Ward, Kyoto, Kyoto Prefecture 605-0071
Isn't this breathtaking? You can actually feel the calmness of the atmosphere just by looking at it. See how everything is just mirrored by the pond's peaceful state. 
This gem is also known as the 'Golden Pavilion', a Zen temple in northern Kyoto whose top two floors are completely covered in gold leaf. This UNESCO World Cultural Site is one of the most important historical structures in Japan and is also a worthy selection for your Instagram collection. 
But its beauty doesn't settle in one angle, nip to the back of the Sekka-tei Cottage for a unique viewpoint that less adventurous image-seekers often miss.
Address: 1 Kinkakujicho, Kita Ward, Kyoto, 603-8361, Japan
6. Itsukushima Shrine, Hiroshima
The Itsukushima Shrine was built in the 12th century and registered as a UNESCO world heritage site in 1996. It is known for its "floating" torii gate located on the outskirts of the shrine. 
The main shrine is built over the water on Miyajima Island. As the water level changes during the day with the tide, the gate becomes accessible even on foot.
This is where you'll discover traditional Japanese architecture and breathtaking natural beauty from the sacred peaks of Mount Misen, extensive forests, to its aesthetic ocean view. Everything just complements one another in the most inspiring of ways. This is a must-have shot for every visitor coming to the island. It's Instagram-worthy!
Address: 〒739-0588 Hiroshima Prefecture, Hatsukaichi, Miyajimacho, 1- 1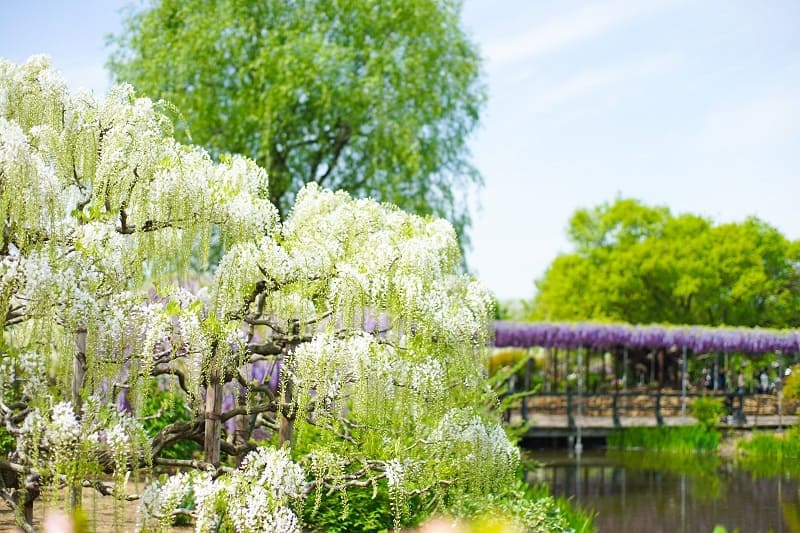 Now you might also agree to this as an Instagrammable haven. This park was first opened in 1968 under the name "Hayakawa Farm that spans 94,000 square meters.
You will likely get your shot under the 150 years old, Great Wisteria. This tree still stands and symbolizes the park itself. This tree was also designated as a national monument by the Tochigi Prefecture.
There is still more in-store for your Instagram feed. Take a perfect shot with the 80-meter tunnel of white wisteria or yellow Kibana, the thousands of azaleas, hundreds of other flowers, and winter lights. The flowers themselves are also illuminated at night, providing an "out of this world" feel.
Address: 607 Hasamacho, Ashikaga, Tochigi 329-4216, Japan
8. Hitachi Seaside Park, Hitachinaka
An incredible sea of flowers; ladies wouldn't miss out on taking a picture here. This spacious park features a variety of green spaces and seasonal flowers spread out across 350 hectares. There is also an amusement park and several cycling and walking trails everyone can enjoy.
The park's iconic flower is the blue nemophila, which covers the Miharashi Hill in the spring and mimics the color of the sky. The flowers are usually at their peak from late April to mid-May. 
Paths crisscross the hill providing views over the Pacific Ocean and the rest of the park. In fall, the hill is covered by green kokia bushes which slowly turn red as the weather turns cooler. These autumnal colors are usually best from early to mid-October.
So it just depends on you which month you want to see the flower's colors. Anyhow, this place is worth for an Instagram post.
Address: Japan, 〒312-0012 Ibaraki, Hitachinaka, Mawatari, 大沼605-4
Hokanji Temple is the landmark of Higashiyama, Kyoto. The temple is a five-story pagoda founded in the 6th century. The second story has great views of the Kyoto skyline. This sight-seeing experience will only be possible to access if visitors are allowed to. You might appreciate how well-preserved this historic district is. 
It's great to walk through the streets, get a sight of the wooden buildings and traditional merchant shops; it invokes a feeling of the old capital city. Stand in the middle of an alley, with the temple in view, then you have a great shot to share your Instagram.
Address: 388 Yasaka Kami-machi, Kiyomizu Higashiyama-Ku, Kyoto City
Not only the best spot for cat lovers out there but surprisingly one of those Instagrammable places in Japan. Lined with dozens of Maneki-Neko figurines, the Gotokuji Temple is a must-see for those looking to snap a peculiar shot. Get a selfie with these feline ornaments and expect a majority of Instagram likes from kitty lovers. 
These arm-waving lucky cats are created in all sizes across the temple compound. Gotokuji is said to be the birthplace of the famed Maneki Neko (beckoning cat).
Address: 2 Chome-24-7 Gotokuji, Setagaya City, Tokyo 154-0021, Japan
11. Shibuya Crossing, Tokyo
"The busiest crossing in the world", this description is better than anything else. Over 1 million people cross it every day and about 1000 at once in 10 directions during peak hours. This crossing is filled with pulsating energy. 
Isn't this the best place to snap your iconic Tokyo photo? No Tokyo-visit is complete without stepping foot on this human spectacle. If you manage to capture that lens flare in your shot, that's a huge bonus. You might hit your highest number of likes on Instagram with this photo.
Address: 〒150-0042 Tokyo, Udagawacho
Another prominent Japanese nightlife district, this time located in the capital of the Kansai region – Osaka. 
Shinsekai means "New World".  Its main audience is people looking for delicious food that the city is famous for. 
You'll see large-decorated restaurants with big signboards and air balloons, together with the silhouette of the Tsutentaku tower, that really makes Shinsekai such a magnet for Instagrammers.
Address: Osaka Prefecture, Osaka, Naniwa Ward, Ebisuhigashi, 1
13. Tokyu Plaza, Omotesando Harajuku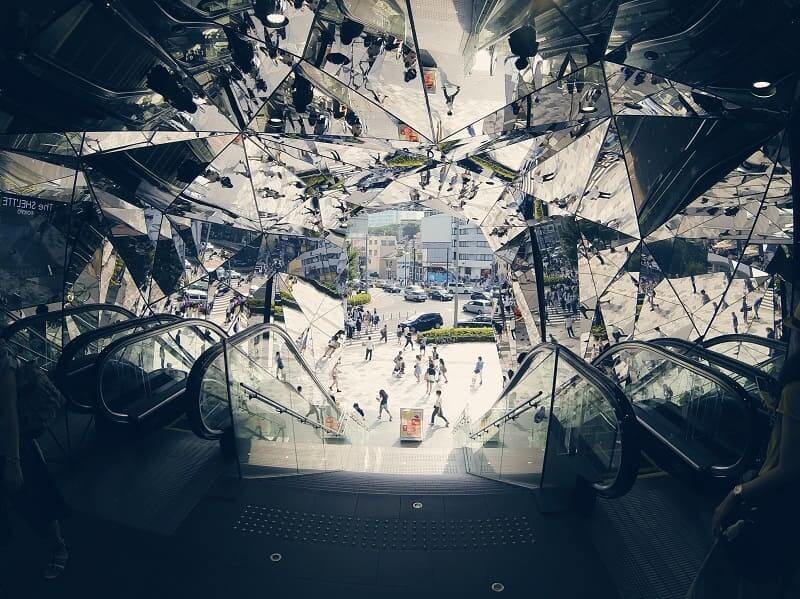 A picture under a kaleidoscopic fortress, who would miss out on that? 
Tokyu Plaza, Omotesando Harajuku is a bustling multilevel shopping center with international brands & a rooftop terrace with city views. Even the extended escalator leading to the entrance of the building is fancy enough for newcomers to stop and take out their cameras.
Surely,  anyone would attempt on getting a perfect Instagram-worthy shot dressed in your choice of style.
Address: 4 Chome-30-3 Jingumae, Shibuya City, Tokyo 150-0001, Japan
Dotonbori has a dual personality, being both a canal and a famous entertainment district defining the southern edge of Osaka. 
Here you will find vibrant cafes and food stalls string along the Yokobori River at night, illuminated by neon and glimmering reflections of the city skyline. 
Board an evening riverboat at the Ebisu Bridge for a chance to get some of the most striking images of Osaka. Also, keep an eye out for the iconic neon 'Running Man' sign.
Address: 1 Chome-9 Dotonbori, Chuo Ward, Osaka, 542-0071, Japan
15. Meguro River in Tokyo, Japan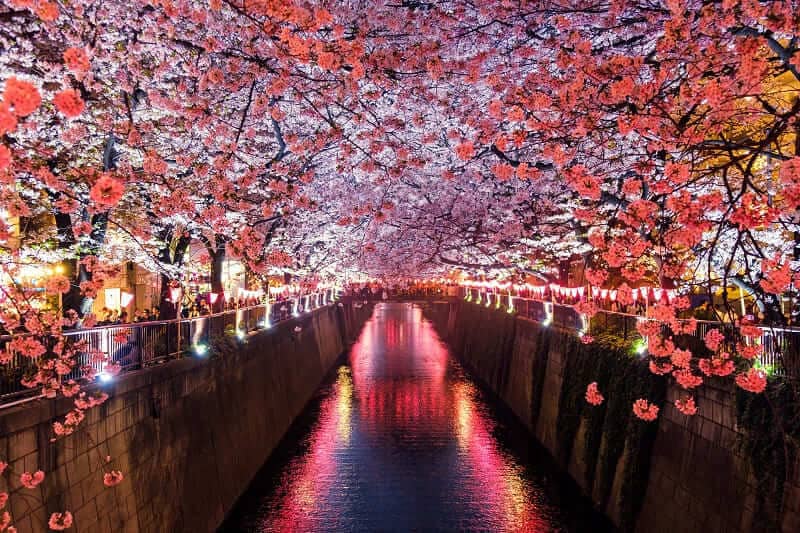 The Meguro River is one of those stunning Instagrammable places in Japan, most especially during at night. This long river has almost 8 km in length and passes through Setagaya, Meguro, and Shinagawa wards.
You will most likely love the riverside area, not only a pleasant place to walk, but you can definitely take the best shots from there. You wouldn't know that it is located in the most populous city in the world.
We recommend visiting the place during the spring season because the cherry blossoms that line the banks are in full bloom. It would be hard to ignore its amazing views.
Address: 153-0061 Tōkyō-to, Meguro-Ku, Nakameguro, 1 Chome−11−18
16. teamLab Borderless Museum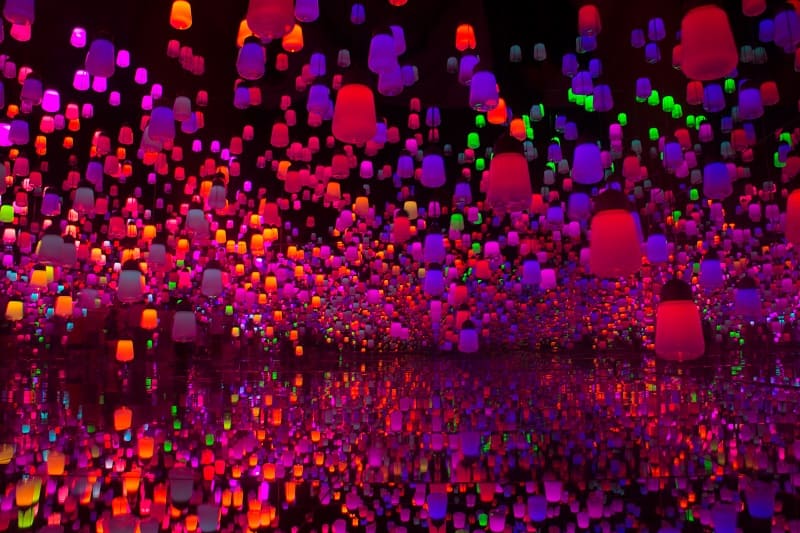 If you love arts, the teamLab Borderless in Japan is a place to explore. This digital museum in Odaiba has filled with moving artworks as if you are in a borderless world. 
Some of the prettiest rooms to take photos include the Forest of Resonating Lamps, where you can snap a photo featuring gorgeous color-changing lamps. The room can hold 20 people every minute, and the lantern change colors every 30 seconds, be ready with your camera.
About the camera, the museum does not allow high-end cameras and tripods, only ordinary cameras and smartphones.
There are two digital art museums in Tokyo produced by teamLab, such as the following: 
So if you plan to visit any of these digital art museums, which is one of the best Instagrammable places in Japan, you can simply purchase your ticket online.
Address: Palette Town, 〒135-0064 Tokyo, Koto City, Aomi, 1 Chome−3−8
17. Minoo Waterfall, Osaka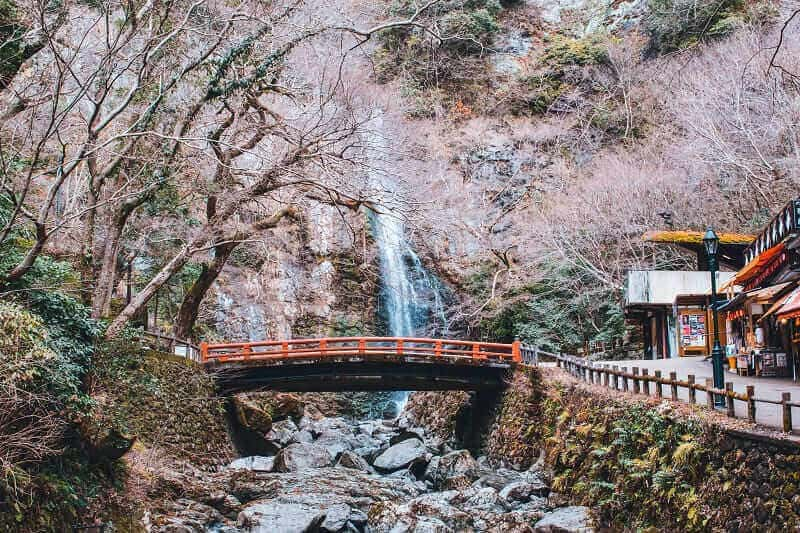 Outside the hustle and bustle of downtown Osaka, Mino Park stretches through a forested valley, crowned by its 33-metre waterfall. 
In the summer, the one place where you can refresh your body at is here. The Meiji-no-Mori Minoo Quasi-national Park is located just 30 minutes away from Osaka Station. 
In an area defined by picturesque farms and terraced rice paddies, the entire experience of visiting the Mino Waterfall is one huge photo opp. 
Address: 2-2 Minookoen, Minoo, Osaka 562-0002, Japan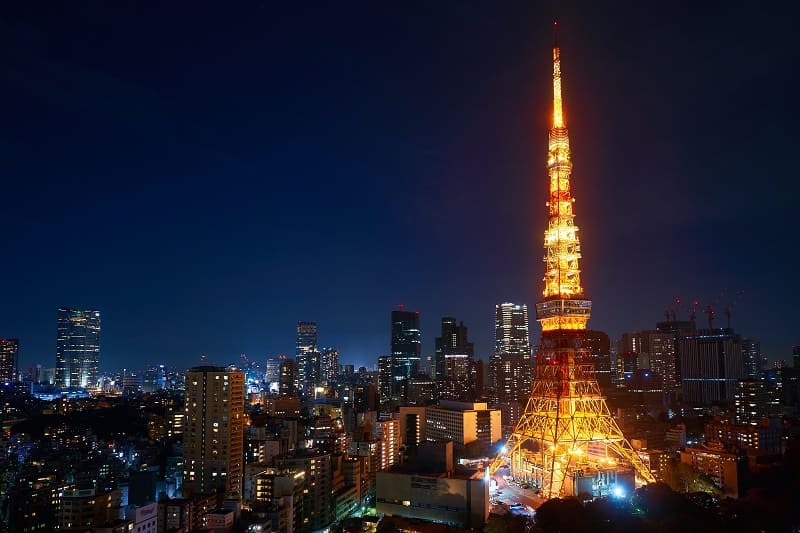 The good old Tokyo Tower is the perfect spot to start your Instagram story, as there's nothing more iconic in the capital than this glowing orange mast that appears as an Eiffel Tower replica.
Tokyo Tower is a communications and observation tower in the Shiba-Koen district. It was built in 1958 and the tower's main sources of income are tourism and antenna leasing. At 332.9 meters, it is the second-tallest structure in Japan.
Address: 4 Chome-2-8 Shibakoen, Minato City, Tokyo 105-0011, Japan
19. Harajuku's Cat Street
Unfortunately, the trendiest street in Tokyo has nothing to do with cats despite its name.
But if you're looking for a trendy neighborhood full of trendy shops, this is the place for you. Harajuku is known for its offbeat fashion, but you'll find a range of trends and clothing identities being explored by young and old.
"Trendy" is actually the buzzword of Cat Street. Because its location is between two of Tokyo's biggest shopping districts – Harajuku and Shibuya – makes an ideal catwalk area for fabulous trendsetters. 
Address: 5 Chome-10-10 Jingūmae, Shibuya-ku, Tōkyō-to 150-0001, Japan
Shop your way to the temple. Asakusa market has such a variety and wide selection of souvenirs, along with delicious snacks, which only makes it really hard to leave here empty-handed or even hungry.
Asakusa is one of the most internationally-known sightseeing places in Tokyo. Here you will find the famed Sensoji Temple and the great paper lantern of Kaminarimon, but there are dozens, if not hundreds, of incredible things to both see and do here. One of those is capturing a perfect Instagrammable angle.
Access: Asakusa is served by the Ginza Subway Line, Asakusa Subway Line, Tsukuba Express, and Tobu Railways. It can also be accessed by the Tokyo Water Bus.
If you want to know how Asakusa, Japan looks like, check out the virtual tour video below.
There are just countless Instagrammable places in Japan that you can explore. You might even say EVERYTHING in Japan is so worthy! So wherever you are, whatever vibe you're into – modern or traditional – you won't have a hard time searching for the perfect spot to strike a pose. Because everywhere you go, it is worth being in your colorful Instagram story.
FAIR Inc provides useful information about Japan.