Have you ever tried online grocery shopping in Japan? If you do have, you will realize it is more convenient and much easier these days. By simply tapping your orders and paying using credit cards or cash on hand, you can get your groceries delivered to your front door.
Since one of the payment options is using credit cards, find out how you can apply for a credit card in Japan as a foreigner on the "3 Best Credit Cards In Japan For Foreigners" article.
Although this online grocery has been around in Japan for years, starting the COVID-19 crisis, more shoppers preferred this method than going to physical stores.
Consequently, major retailers in Japan have invested in online grocery shopping and created a home delivery system to attract many shoppers.
You may ask, what are the leading online grocery stores in Japan? And why should you do online grocery shopping? In this post, you will find out the answers to these questions. Keep on reading. 
Why Online Grocery Shopping in Japan?
10 Leading Online Grocery Stores in Japan
Out of several online stores in Japan, we recommend ten (10) based on reputation and online popularity. We also consider the different services they've been offering, such as delivery options, modes of payment, promos, and more.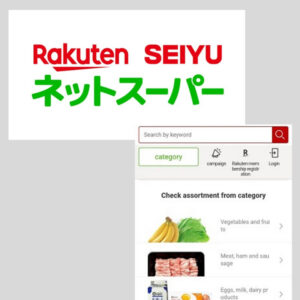 Membership registration at Rakuten SEIYU is free and no annual fees. With your Rakuten ID, you can enjoy different services applicable to you, including discounts and promos.
Apart from it, you can save much on your groceries because of SEIYU's daily low price. To check for all discounted items, you can click the "special feature on bargain products" on the search category list.
Also, you will be able to accumulate your points and redeem them later for payment. And if you want to receive the item within the day, same-day delivery is available but limited to selected prefectures only.
You should pick an online grocery store in Japan that helps you save money and has a reliable delivery system like SEIYU.
Payment Methods:
Cash on delivery

Credit card

Rakuten points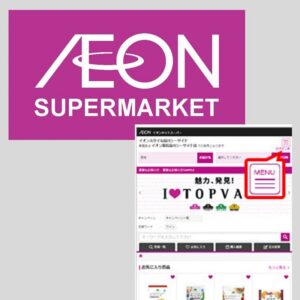 Are you looking for a wide range of products? Shop at Aeon online supermarket now. 
Aeon is a service that allows you to receive products from nearby Aeon stores. There is no registration fee nor annual fee. And you can earn WAON points according to the purchase price and use them later for payment. New registrations and orders will receive 200 WAON points.
If your concern is purchasing bulk items or heavy items, it is possible with Aeon. Their home delivery system and same-delivery option make your online shopping smooth and easy.
So if you're looking for a store that has a wide range of product lines online, we highly recommend Aeon.
Payment Methods:
Cash on delivery

Credit card

WAON points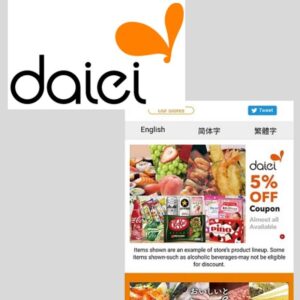 Daiei is another worth buying online grocery store in Japan. The store will let you shop various meat products, fresh fruits, beverages, including rare items, which will be delivered right to your doorstep. That means shopping for your favorites is not a problem with this online supermarket.
However, it is better to consider the following before you start shopping: 
The delivery fees will vary for each shop and will also depend on your purchased products. 
Purchased items will be delivered within one week to ten days after you received a confirmation email. 
Delivery service is limited to some areas in Japan. 
Payment Methods:
Credit card
Prepaid method
Pay at any convenience store
Shop at DAIEI!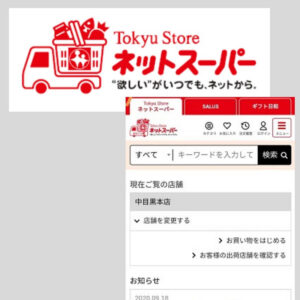 Are you looking for an online grocery service that delivers a minimum of 3 hours from ordering? You should try grocery shopping in Japan with Tokyu Store!
However, this store is only available in Tokyo and Kanagawa prefectures. That means delivery service is possible within those prefectures only. 
There is no registration fee, annual membership fee, or monthly membership fee. And with your TOKYU CARD ClubQ JMB Card, you can earn 3 points for every JPY 200 (excluding tax) purchased by credit card.
Payment Methods:
Cash on delivery
Credit card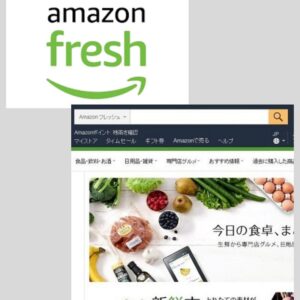 Amazon Fresh launched last 2017, a popular online grocery shopping in Japan. With a large number of products, you will for sure enjoy shopping while at home.
However, this Amazon-operated grocery store does not offer free membership. You need to be either an Amazon Prime or Student member to place orders on their website or app. And if you want to enjoy free delivery, you need Amazon Fresh Add-on to your current membership plan.
Available in Tokyo 23 wards, Kanagawa prefecture, and Chiba prefecture. The same-day or next-day delivery is possible in select regions only.
For a seamless shopping experience, try Amazon Fresh today!
Payment Methods:
Credit card
App payment
Amazon gift certificate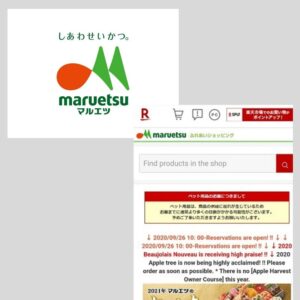 Maruetsu Net Super is also one of the best online grocery stores in Japan. Here are some reasons why you should consider purchasing with them:
Delivery charge is only 330 yen and free when purchased 3,500 yen or more.
With the same-day delivery system.
A staff will shop on your behalf.
Guaranteed to deliver the same price at the store.
Apart from that, you can easily order online through their official website or the mobile app.
If you use the Maruetsu card by credit card, you can collect points. And you can also exchange accumulated points to gift certificates and electronic money WAON POINT.
Payment Methods:
7. Ito-Yokado Net Supermarket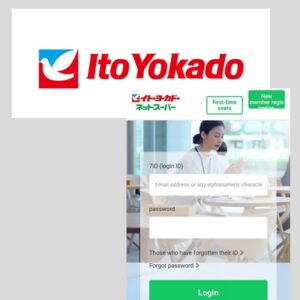 This online supermarket will deliver a wide variety of products across 20 prefectures in Japan. You can also earn 1 Nanaco point for every 200 yen you purchase.
Online shoppers can choose different pickup options. You can pick it up from home, locker, or at the store. You could also specify it from the shortest day to 7 days later, which is very convenient!
What is more with Ito-Yokado? By presenting your Maternal and Child Health Handbook within four years from the date of issuance, the delivery fee is only 102 yen.
Payment Methods:
Cash on delivery

Credit card
8. Life Supermarket Online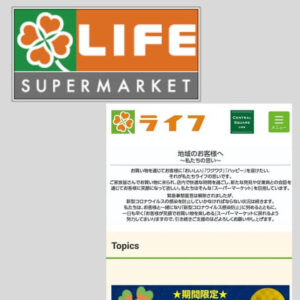 Life Supermarket operates mainly in Tokyo metropolitan area and Kinki area. So if you live within those areas, choosing the largest supermarket chain in the country with the most reliable services could be the wisest choice. 
In addition, a wide range of product selections, from dry goods to fresh produce, even imported items, can be purchased at this store.
You can also use Life App, which is available to download for both IOS and Android devices. Using the app, you can get great coupons, receive new leaflets, and link your "LaCuCa" card – an electronic money function, to earn points (1 point per 200 yen).
Payment Methods:
Cash on delivery

Credit card

Smartphone payment (Line Pay, PayPay, MerPay)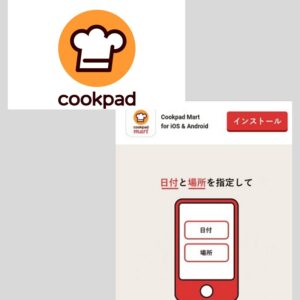 Cookpad Mart is a multi-seller platform where they allow local sellers and producers to participate. And this store is specializing in providing fresh food daily.
So why should you consider shopping online at Cookpad Mart?
Instant ingredients for your recipes are available.

To keep the freshness of food, "Mart Stations" are installed in various places such as stations, convenience stores, drug stores, and condominiums.

It has a door-to-door delivery service.

Mobile application is also available.
Payment Method:
It is a regional delivery online supermarket that offers a wide range of products, including fresh produce, daily needs, and more. Staff from their store will shop on your behalf and deliver your ordered items right to your home.
If you have bulk orders and it's hard for you to go out, ordering at Net Super Okuwa could be the best option out there. Even on rainy days, home delivery is way more convenient.
Just like other online grocery stores in Japan, registration and membership fee is free.
Payment Methods:
Cash on delivery

Credit card
Online Grocery Shopping in Japan For Foreign Foods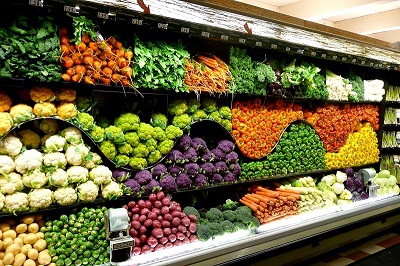 Are you craving for international flavors? Here our best pick of online shops wherein you can buy a variety of imported products.
Seijo Ishii
Do you want home delivery of European cheeses, homemade bacon, wagyu steaks, truffle-scented nuts, artisanal teas, and Bordeaux wine? Seijo Ishii is also available. Seijo Ishii is a shop of premium foodstuffs and alcohol from local and abroad. 
Delivery is free if orders are over ¥8,000. Shipping costs of orders under ¥8,000 may vary. Also, you can pay through credit card, cash on delivery, Amazon Pay, or convenience store. 
Seijo Ishii Link: www.seijoishii.com
Maya Bazar
Also, an Indian grocery store is located near Meguro station. From any variety of spices, rice, tea, you can also order online. 
Maya Bazar Link: https://www.mayabazaar.net/eng
HALAL DELI
HALAL DELI's website offers a lot of Halal Lunch delivery services. You can choose the language on the website.
HALAL DELI Link: http://www.halal-deli.com/list/
Kobe HALAL
Kobe HALAL Food specializes in Halal food and like any HALAL store, they also deliver all over Japan. You can choose from African, Indonesian, Indian, Iranian, Japanese, Pakistani, Tunisian, and Turkish food. If you are in Kobe, you can find their retail store there. 
KOBE HALAL Link: http://halal.shop-pro.jp/ 
HALAL Meat
Halal Meat Japan specializes in Japanese Wagyu Halal Beef and Halal Japanese Chicken and they ship all over Japan. Plus, you can shop online. 
HALAL Meat Link: http://mhalalc.ocnk.biz/
Ambika Online
To satisfy the craving for Indian recipes, Ambika sells a stockpile of vegetarian ingredients such as beans, legumes, spices, chutneys, frozen paneer cheese, chapatis, beers, wines, coconut products, HALAL products, and rice varieties. 
For orders over 8,000 Yen, delivery is free. Please note that when refrigerated or frozen products are ordered at the same time as regular items, deliveries are split and billed accordingly.
Shipping costs on orders under ¥8,000 may vary. You can pay via credit card or cash on delivery. 
Ambika Online Link: www.ambikajapan.com.
HALAL Said
HALAL Said Shop specializes in Halal Food and they also deliver all over Japan. If you are near Shinjuku, you can go there to buy HALAL foods. 
TEL: 092-791-2560
HALAL Said Link: http://halal-food.jp/
Picard
If you are a French recipe lover, Picard here will satisfy your tastebuds. They are known as a specialist in freshly frozen ingredients such as fruits and vegetables as well as ready-to-eat meals, such as blanquette de veau (veal in white sauce stew) with rice and other time-saving sides and sauces.
From the store's appetizers, French pastries, and dessert items, Picard will deliver them for you. 
Register for free. Shipping costs vary. You can pay via credit card or cash on delivery. 
Picard Link: www.picard-frozen.jp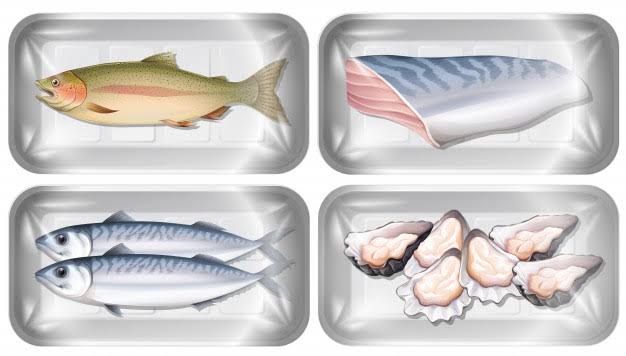 Oisix Ra Daichi
Are you a cake and pasta lover?  If you are health conscious and you need foods that are both healthy and nourishing, Oisix Ra Daichi will fill that necessity. Physical stores are in Kanto and Kansai. They specialize in the distribution of organic produce and healthy foods.
They also recommend customers order mixed vegetable boxes instead of single items to avoid worrying about temporarily out of stock. Their delivery service carries the hashtag #StayHome, EatAtHome in this global emergency. 
Shipping costs also vary. You can pay with your credit card or by cash on delivery. 
Oisix Ra Daichi Link: bit.ly/oisixradaichi-en
Costco
Costco is very familiar to wholesale retailers. While in the pandemic, you can now order certain goods online. Cakes and Deli's are also available for preorders. 
Costco Link: https://www.costco.co.jp
3 Easy Ways to Successful Online Grocery Shopping in Japan
1. Open the website or the provided app. Log in. If you are a new user, register as a new member. In this way, you will render points by shopping. 
2. After logging in, start choosing your desired fresh products. Add to basket. Provide your delivery location. 
3. Pay with a credit card, mobile payment app or you can choose cash on delivery. Please note that you also have to pay for the shipping fee and the plastic bags. Wait for the delivery within a day.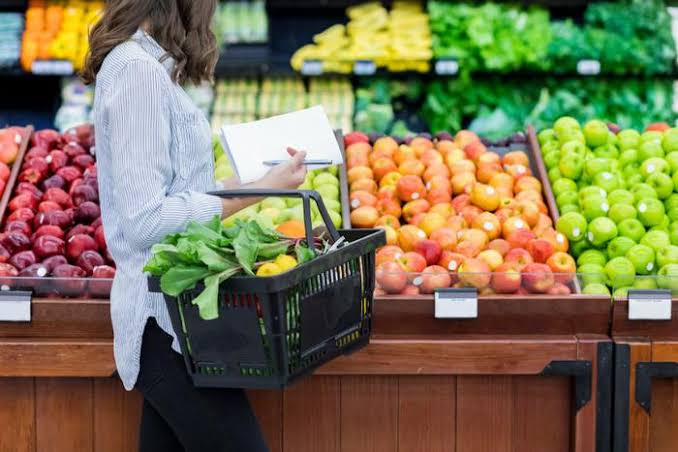 In Japan, people are known to be careful shoppers. But because of the pandemic, a new normal must be embraced. 
With the start of the "everything is in online trend", you can even now shop your groceries online in Japan. There are a lot of online supermarkets to pick.
Moreover, online grocery is very easy. As a result, everything you ordered will be delivered to your front door. 
To summarize, you learned about grocery shopping online. If you also want to buy other things aside from fresh foods, read our article "How to Do Online Shopping in Japan?". Comment down below if you have any other suggestions about online shopping in Japan.
FAIR Japan provides useful information about Japan. 
LEARN MORE ABOUT JAPAN!
Watch walk tour videos in 4K UHD while at home. Enjoy real-life walking around the beautiful and popular city, Tokyo.