Each country has its own version of a convenience store or a retail store that excitingly provides multiple selections of foods and products. Many people count on them for purchasing urgent necessities when regular stores are closed because this store extends late at night, opens during holidays, and the majority available 24 hours.
Generally, that is what a convenience store serves for its consumers, but why many claimed that Japan's "konbini" or convenience stores are the best and extra convenient? Let's learn more about the Japanese version of a convenience store.
What is a Konbini?
Konbini is a Japanese term for a convenience store. More than 50,000 thousand of these stores are scattered in Japan that most locals and non locals rely on them for purchasing grocery items, daily necessities, all-day meals, and other services as well.
What's unique about Japan's version of convenience stores is how they manage to offer a variety of products. For example, you can choose different types of single-packed deli products, healthy packed meals, as well as on-the-go items from various brands. Imagine they able to stock in a Konbini the same products offered in regular stores by just packaging it in portion. Truly an extra convenient!
Must-buy food in a convenience store in Japan
There are more food items to choose from in the three (3) Major convenience store chains (Lawson, Family Mart, and Seven-Eleven), and you might have as well your own list of favorites. For those newcomers in Japan and also for those planning to visit Japan after the COVID crisis. Here are some of our recommendations.
Japanese goodies are really worth the try. Unlike in many other parts of the world, trying to find a good cup of coffee or a quick meal in the morning can be quite a challenge because most cafes and bakeries in Japan don't open until 10 or 11 a.m. Make a convenient choice and find a conbini nearby.
1. Onigiri (rice ball) – 110 JPY
2. Bread Buns – 120-180 JPY
-Pizza w/ melty cheese
-flavorSpicy curry w/ cheese flavor
-Bean paste & sesame bun
-Yakisoba bun
3. Bento Sets – 400 JPY
4. Ramen/ Noodles (stir-fried) – 260 JPY + 68 JPY (egg)
5. Coffee Cream Treat -a snack that complements perfectly with tea/coffee – 110 JPY
6. Kamu Kamu Lemon – a soft-chewing, citrusy candy made using lemons from the Setouchi region.
7. Kabukiage – a deep-fried rice cracker flavored with sweet soy sauce
8. Fried Chicken – 188 – 216 JPY
-Honetsuki (fried bone-in chicken)
-Honenashi (fried boneless chicken)
-Karaage (deep-fried chicken nuggets)
9. Premium Roll Cake – a signature dessert; a cream-filled sponge cake is so high that it's hard to believe it's sold at a convenience store – 150 JPY
10. Yakitori (skewered chicken) – 100 JPY
11. Oreno Series – series that consists mainly of desserts and offers various types of large-portioned foods.
12. Sakeru Cheese – a kid-friendly snack; it is a milky string cheese made from 100% Hokkaido raw milk in six flavors available: plain, smoked, bacon, chili pepper, roasted garlic, and butter soy sauce.
13. Japanese Beverages – Of course, there will be soda, refrigerated coffee, tea, water, sports drinks, juice, milk, and vitamin drinks. Most convenience stores also sell alcoholic beverages including Hyoketsu, Sake, Shochu, wine, and beer.
Other products/services you can purchase in a Konbini:
Travel guides – Aside from travel guides, there is a variety of books and manga magazines lined in one corner of the convenience store. Expectedly, most of the books are written in Japanese. But for a visitor, you will likely need the travel guide.
Copy machines – used for printing or scanning documents. Ex: 7-Eleven has Multicopy, allowing you to print from your smartphone.
Ticketing – Tickets for sports events, concerts, theme parks, highway buses, and other travel services can be purchased. You can make your ticket payment at the convenience store and get your ticket right away by redeeming it at the front counter.
Delivery – If you need to send a letter, a parcel, or even luggage to the airport, you can do that at any convenience store. You can ship parcels through TA-Q-BIN. Simply ask for a shipping form, fill it out, and pay the fee. On the other hand, receiving goods purchased from a shop, you can search for the closest konbini and have your items shipped there. The konbini will hold your package for up to 10 days; it will be returned to the sender if unclaimed.
ATMs – Convenience stores have ATMs with multi-language support. Most international credit card brands can be used at these ATMs for cash withdrawals.
Wi-Fi Connection – Wi-Fi network can be used for FREE.
Bill Payment: Your utility, cell phone, and insurance bills can be paid easily.
Restrooms – Be assured that unlike some public restrooms, the ones in Japan are clean, organized, and conveniently FREE to use.
3 Major Convenience Stores in Japan
There is a strong competition between major operators – Seven Eleven, Family Mart and Lawson. They constantly have their own approach to producing new innovative products and services that makes Japanese convenience stores truly convenient. Here's are well-known items you can try from each major company
7-Eleven is Japan's first convenience store established in the 1970s. It is well known for its variety of hot meals, bento sets, fried Karaage, an aisle of instant noodles, pancakes, and steamed buns that some say are "to die for". You can go for their Pork Shabu-Shabu Salad, Inari Sushi, along with a Yogurt Blueberry Drink. You can also try their Salmon Onigiri along with any soup noodles you'll find. Try anything!
If you've heard of Seven Premium, it is known for its rich variety of high-quality products comparable to specialty stores. 20,700 stores (nearly 31% of global stores) are in Japan with 2,705 stores in Tokyo alone as of July 2019.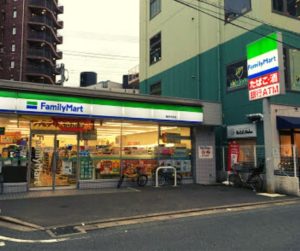 FamilyMart is the first Japanese-owned convenience store chain to go global! The chain operates over 18,000 stores in Asia while there are over 17,000 stores located in all prefectures of Japan. The first FamilyMart established was in Sayama, Saitama in 1973.
The name "FamilyMart" signifies the relationship that values support and growth among its customers, employees, and stakeholders, just as a family does.
FamilyMart is best known for its cheese tart, cheese-stuffed burger patty, hambagu, their Bubble Tea, the FamiChikif, clam miso soup, Hiyashi cold ramen, and Curry Omurice. It would all be worth trying. A special corner for MUJI products also exists! That basically includes toiletries and simple clothing items.
Lawson is third to the first two convenience franchise giants mentioned. In 1939, dairy owner James "J.J." Lawson started a store in Cuyahoga Falls, Ohio, to sell his milk. Over time, Lawson's Milk Company grew to a chain of stores, primarily in Ohio. In 1974, the company began a partnership with Daiei to open the first Lawson stores in Japan. In September 1979, the official name was changed to Lawson Japan, Inc. Yes, it exists today as a Japanese company and is numbered over 14,000 stores.
Lawson is known to handle products that have fashionable designs of good quality. It is especially popular for its health foods (organic, gluten-free, vegan) and outstanding desserts. Interestingly, Lawson even has its own brand called UchiCafé SWEETS. If you are a fan of sweets, then you will surely love to have a taste of everything such as the Butter Kaoru Melon Pan, Premium Roll Cake, and Karaage-Kun.
*We discuss in our Japanese resume article about how to create an hassle-free resume using the preformatted templates on web, which you can have it printed conveniently at any 7-Eleven store nationwide.
If you are a traveler, then surely, the first thing you might think of is finding a convenience store. You don't need to guess what to pick out from a konbini because you have this fun article to guide you. Not only is it a mini-grocery, but it is also extra convenient due to the printing, payment, and delivery services they provide. Somehow, Japan has its "extra" ways to set itself apart from the rest of the world. If you do get a chance to actually have that "konbini" experience on your travel, you'll love it, their products are amazing!
FAIR Japan provides useful information about Japan.