Are your eyes often dry or tired after a long day of work or study? Worry no more! We have the ultimate solution – Japanese Eye Drops. Known for their quality and effectiveness, these drops could be just what you need to soothe your eyes and keep them refreshed throughout the day. Let's dive into some of the best Japanese eye drops we offer. 👓🎌
1: E22 Japan PHAMU FX "Ice Cool" Medicated Refresh Eye Drops 15ml: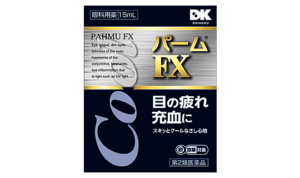 Last but not least, we have the PHAMU FX "Ice Cool" Medicated Refresh Eye Drops. It's the perfect choice if you experience eye discomfort from excessive use of computers, smartphones, or televisions. This eye drop offers a strong cooling sensation, providing a refreshing feel to your overworked eyes and relieving congestion.
It's important to note that it is recommended to consult with your physician or pharmacist before using this product, particularly if you are undergoing medical treatment, have allergies, or have been diagnosed with glaucoma.
2: Rohto C Cube Ice Cool a 13mL: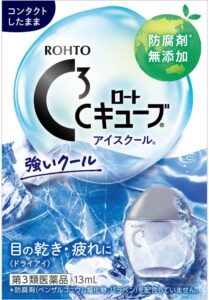 The Rohto C Cube Ice Cool a is designed to bring comfort to contact lens wearers. This cooling eye drop feels as cold as ice and offers a strong, refreshing sensation that's sure to comfort dry or tired eyes. It's specially designed for contact lens wearers, providing a moisturizing veil that wraps around the lens. Additionally, this product takes care of the environment with its eco-friendly packaging! 💚🌍
What makes it unique is its intense cooling sensation – a whopping 7 on the cooling scale. This eye drop is designed for those who value the refreshing feeling that only a truly cool eye drop can provide. It's also preservative-free, making it gentle on your eyes.
3: New Mytear CL Ice Crush 15mL: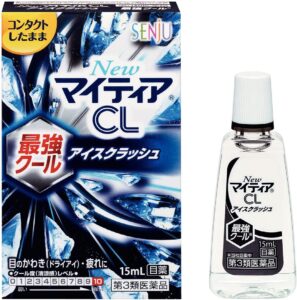 New Mytear CL Ice Crush delivers the ultimate cooling sensation for your dry eyes caused by contact lenses. This eye drop provides a strong refreshing feel and works to improve eye fatigue and dryness. It contains glucose, a nutrient that promotes the metabolism of tired eyes, showing effective results. 👁💦
With this eye drop, you can wear all types of contact lenses, including soft, hard, and color contact lenses. It's safe for those without contact lenses as well.
Conclusion: Japanese eye drops offer a unique combination of refreshment and therapeutic effects, making them a perfect choice for anyone experiencing eye discomfort. Try out these top Japanese eye drops and give your eyes the care they deserve.
Get yours today and experience the benefits firsthand! 🛍💙
I hope you find this useful for your WordPress blog. Let me know if there are any changes you'd like me to make! 📝🔍