It would be a thrilling idea to visit one of Japan's historic attractions known as Shinjuku Golden Gai. It is the place you will find as you walk through the Kabukicho red-light district.
Although this private property doesn't seem to fit in at all with Tokyo's neon city lights and grand skyscrapers, Shinjuku's Golden Gai is still admired for its architectural uniqueness and remains to be a great spot for bar-hopping. It's regarded as one of the warmest and friendliest places to socialize and meet people in the whole of Tokyo.
Moreover, if you are into any Japanese movies, Gai is also a famous place among celebrities and artists. You may just spot one you may know on your visit. 
Through the eyes of the Millennials, this historic gem may seem to be a mix of traditional and western aesthetics. It would be fun to try it out yourself.
History of Golden Gai in Shinjuku
The Golden Gai started with a not-so-colorful story. Black market activities such as prostitution occurred around the 1950s. Since then, it has developed as a drinking area around the 1960s. By that time, Japan went through an economic "booma" period widely referred to as "the Japanese economic miracle" where modernization has overtaken all of Tokyo. All except the Golden Gai. 
That explains what you will experience in Golden Gai, something that is becoming rare in Japan. You will breathe into the "Showa retro" vibe that evokes a sense of nostalgia and yearning for an intriguing past. 
*The term originates from the Showa Era – the period during which Japan was under the reign of the Showa Emperor Hirohito.
Golden Gai Shinjuku Travel Guide
Golden Gai is a few minutes walk from the east exit of Shinjuku Station, located between the Hanazono Shrine and the Shinjuku City Office. 
If you go by train you can use your Japan Rail Pass to get to Shinjuku Station on any of these JR lines:
Yamanote line: Shinjuku station is between Shin Okubo and Yoyogi stops.
Chuo line: Shinjuku station is located between Yotsuya and Nakano stops.
Chuo-Sobu line: Shinjuku station is located between Okubo and Yoyogi stops.
Narita Express line: Shinjuku station is located between Ikebukuro Station and Shibuya Station.
Shonan-Shinjuku line: also between Ikebukuro and Shibuya stops.
Saikyo line: Also between Ikebukuro and Shibuya stops.
What to Expect at Shinjuku Golden Gai
While the city is a realm of flashy, neon-drenched clubs, bars, and lounges, only in Shinjuku Golden Gai you will find traces of Tokyo's postwar nightlife. The vibe here is down to earth, locally-minded and still wonderfully strange.
The Golden Gai is made up of six incredibly narrow alleys leading to even narrower passageways fit for a single person to pass through. It is a tightly packed area with about 200 bars. You will also find steep sets of stairs leading to a separate establishment, or a tiny flat, upstairs.  
Each bar has its small individual entrance covered in stickers, either freshly painted or aged and battered. 
Some establishments are barely two meters wide that only five or six customers can fit in at one time. So customers have to squeeze in at the counter and the proximity people have makes it easy to start up a conversation with the other customers. 
Each bar has its own style, whether foreign decor from troll toys to hospital-themed uniforms, a signature drink or the promise of free karaoke at all hours.
Yes, if you are looking for a human scale, welcoming, friendly place, this is the perfect spot for socializing, dating, and getting drunk amongst a mix of locals and tourists.
The Best Time to Visit Golden Gai in Shinjuku
If you prefer to venture on weekdays and Saturdays, the area's businesses are usually open from 5:30 PM to 5 AM. And if you choose a Sunday, the usual hours are 8 PM to 12 midnight. 
TIP: Don't head over too early or you'll find empty streets and too many empty seats. The Golden Gai only really comes alive late at night, as most of the bars aren't even open before 9 or 10 PM. Things are in full swing around 11 PM.
Don't be wide-eyed on signs like "No Foreigner," "No Tourists," or "Regulars Only" at the door of some establishments in Gai. Because with such a small space, some prefer to keep their seats for regular customers rather than bar-hopping tourists, who might have one drink, loiter and leave.
This is no reason to be discouraged though. You'll find bars that are open to new customers. They're the ones that display menus and lists of prices outside, some even having signs in English to attract foreigners.
Additionally, most bars have implemented a form of "cover charge" to prevent people from bar-hopping (or just taking a photo and leaving). 
*"The places are quite small and often will charge you an entrance fee.", a review states. "Avoid those if you can – as there are places that let you in for free. If you don't like whiskey or drinking right next to other people this isn't the place for you. Also, some places may be unfriendly to foreigners, but every place I went to they were friendly, as long as you kept buying drinks (Some of the smaller places can and will ask you to leave if you stay too long with an empty glass)."
TIPS (Before Spending): Before you go, grab cash. Drinks aren't too pricey by international standards but entry costs, table costs, and drinks can add up, and they are cash only pretty much everywhere.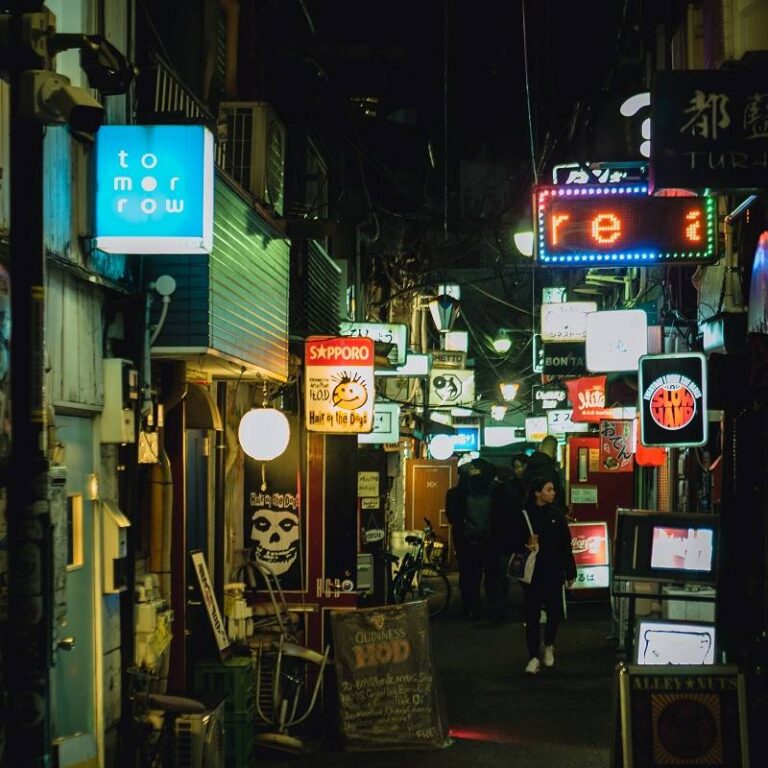 TIPS: Most of the bars don't serve food, so you'll want to go for dinner before drinks. Some bars have a snack menu but don't go drinking there on an empty stomach. 
Shomben Yokocho ("Piss Alley")
If you're a newcomer in Shinjuku and a bit earlier, take a snack along the way. An affordable and very fun option is to stroll around the "Piss Alley" right by the west entrance to Shinjuku station. 
*Doesn't sound appealing? Well, a colorful but entirely inaccurate translation of the Japanese name, Omoide Yokochō is "memory lane".
Nikuto 
If you're craving beef and chicken dishes cooked over charcoal, Golden Gai's Nikuto is the best food hut you should try out.
Discover the crowd's favorites that include the skewered chicken liver – served medium-rare and sprinkled with spring onions, sesame oil, and salt, as well as the kimchi beef, which comes on a hot skillet topped with melted cheese. 
Some of the popular dishes sell out fast, so you won't want to get here too late.
There's no cover charge, but you are asked to order a drink and a food item each due to the limited seats.
Nagi in Shinjuku Golden Gai
First-timers should check out the best ramen among the bunks. Nagi is not exactly a bar, but it makes a good end (or start) to a night of drinking at Golden Gai for you. You will find this establishment on the second floor of an old wooden house. 
The specialty here is pungent Niboshi ramen, made by boiling vast amounts of dried sardines for 12 hours to create a distinctive, boldly flavored soup.
Another recommended meal is the token niboshi ramen, which comes generously laden with slices of chashu pork, menma (seasoned bamboo shoots), scallions, nori seaweed, and a soft-boiled egg, and with a mix of curly and wide, flat noodles.
As a bonus, Nagi is open for business 24 hours daily, which means you can start and end a heavy night-out with a bowl of their noodles.
*The city currently has a record of 12 three-Michelin-starred restaurants as well as only-in-Japan dining experiences that you can check out:
Robot restaurant

Kurumaya Bekkan

Black Hole Kabukicho Main Store
13 Bars in Shinjuku Golden Gai
A TIP: Wondering what to drink? You might go for something traditional such as shochu (Japanese spirit), sake, or Japanese whiskey. Don't hesitate to ask for recommendations by saying "osusume kudasai".
1. Albatross

 
The bar has two floors and a roof terrace that has room for your small group of friends to get a good view of the shimmering lights of Tokyo.
Enjoy the bar's signature chandeliers with their warm glow of the ruby-red walls that create the best atmosphere imaginable to spend a relaxing evening in good company. The bar is also an art gallery of sorts – a stylish merger of Edwardian and Gothic, with gilded mirrors, stag heads, the odd disco ball, and a rickety staircase. If you want to experience a pleasant ambiance bar while visiting Tokyo, then Albatross could be a good choice for you.
Here, there's always an interesting selection of drinks. You may try their Darjeeling liquor and homemade plum tequila. Experiment with your taste buds and go for drinks like the chili pepper-infused spicy gin buck or the cactus sour. 
To get in, there is a ¥500 cover charge, but you do get snacks for it. This is the standard price for the district. But it's well worth it for the experience of overseas visitors.  
*With its 28 seats on both floors (16 counter seats and 12 table seats) Albatross is pretty big by Golden Gai standards. 
2. Death Match in Hell
If you're looking for a bar with no cover charge, then this is one of the best spots. The bar is a counter-only type.
For those who are a fan of death metal music, experience loud music and enjoy hundreds of rock performance DVDs to choose from, it's easy to while away a night among your heroes. 
3. Bar Darling
Want to escape from the male-dominated environment? Barge into a female-friendly atmosphere with Bar Darling. Fairy lights give off the relaxing vibe every woman wants with over 100 different drinks to try. If you are alone, this place won't be awkward for you.
*Interestingly, the owner is an actor. His bar is frequently visited by local stars, so you never know who you'll be rubbing elbows with, occasionally.
4. Bitter Orange/ Orange Prince
A cool and chic place with one of the best varieties of cocktails, beer, and wine. There are counter seats and a small table, so you don't have to squeeze in alone. Bring a friend with you.
They're open till 5 am, so you can save this place to visit last.
5. Kenzo's Bar
How about a good 'foreigners welcome' into the '80s? Have a drink as you are surrounded by a leopard-print vibe, with the 80s music playing in your ears.
The owner is also an actor and screenwriter too. With the same standard cover charge, and drinks ranging to a reasonable price, you'll probably find yourselves staying for more than one. 
6. Ace's
This is the perfect place for any nervous first-timers: no cover charge, very reasonable drinks, and English-speaking staff. 
There's a good mix of locals and visitors, and since it has a reputation as a tourist-friendly spot. A great atmosphere, an eclectic playlist, and people who want to chat as much as you do.
7. La Jetée
If you have a taste for everything French, La Jetee will give exactly that. This bar is named in honor of the 1962 science fiction film Chris Marker. 
This is the best meeting place for disciples of French cinema and the Nouvelle Vague movement. Often visited by film directors such as Tarantino or Wenders, it is the ideal place for filmmakers and artists.
8. Champion
Champion is a large bar with no cover charge. It is famous for its karaoke, as well as its "one coin" and ¥500 drinks.
The Champion Bar lies in the entrance of Golden Gai, where you can enjoy English, Japanese, and even Spanish, German or Russian, Karaokes.
However, this does not belong to the six-alley Golden Gai experience. But if you're in for a sing-along, Champion is highly recommended for you.
9. Cambiare 
Another good place for Golden-Gai beginners to start their bar-hopping tour is here, which doesn't charge for a table or the starter snack. If you want something to nibble on, its pizza Margherita, very reasonably priced at ¥500, prepared on the spot. 
This bar, located on the Hanazono Sanban-Gai lane, attracts many horror movie buffs due to its interior reproducing the atmosphere of the 1977 cult masterpiece Suspiria, by the Italian film director Dario Argento.
10. Nessun Dorma
Nessun Dorma, which means None Shall Sleep, is a very tight-spaced bar that has a ¥700 cover charge to claim one of the limited stools. But it's a place to picture memories. 
They have a back bar filled with hard liquor and cocktails with obscene names,.There's a corkboard of a dozen polaroids of past clients who visited the bar. 
11. The Open Book
This is the perfect spot for all lovers of literature. This charming standing bar is run by the grandson of award-winning Japanese novelist Komimasa Tanaka.
One side of the bar is dedicated to its signature lemon sours, with jars of homemade lemon syrup and special double-chamber filters. On the other side are the floor-to-ceiling bookshelves stacked with prized novels that guests can freely browse. 
Besides all that, the bar also cooks up a delightfully moreish curry toast for anyone craving a hot snack to go with their liquor.
12. Not Suspicious
 Due to the highly flammable interior, this is a non-smoking bar.
The maximum capacity here has always been a point of speculation, as even when the place is packed and all stools are taken, new arrivals are kindly welcomed into the narrow space behind the bar.
 Before hopping onto the next bar, take a Suspicious Shot with a dubious-looking grape-flavored ice lolly rolling at the bottom of the glass That makes a perfect chaser for even the strongest liquor.
13. Sasuke in Shinjuku
Meet the navy blue haven of Sasuke. Anyone in need of free wi-fi, a stiff drink or simply a break from the chaos of Kabukicho will appreciate the understated beauty of this hideout. 
With roughly 250 different kinds of spirits, sake, and shochu, Sasuke offers the most extensive drinks list you will find in Golden Gai.
The bar also features a sleek tatami loft available to anyone at no extra charge. The loft is low enough for the barman to pass your drinks up to you from behind the bar. However, it only fits for those with no more than average height.
Park Hyatt in Shinjuku
Hyatt is an ultra-luxurious hotel best for a true Lost in Translation experience.
Kadoya
Budget travelers would do well to book here instead. Kadoya is a clean and efficient business hotel with a fun bar in the basement.
A TIP: For hotel booking updates, visit booking.com
Golden Gai's Golden Rules:
Smoking tobacco and cigars 

Loitering, Shouting, and Singing

Alcoholic Beverages and Drugs

Photographs and Videos without Permission

– to preserve the privacy of other customers (Japanese privacy laws are much stricter than in most Western countries)

Climbing on Building and Fences
Is it safe?
Yes, Tokyo has one of the lowest crime rates of any big city, so the whole area is much safer than appearances suggest.
Nightlife in Japan is common and Shinjuku Golden Gai is the perfect place to spend it. Either you're alone or with a plus-one, Gai may not give a "wow" impression at first glance; it's worth experiencing.
FAIR Japan provides useful information about Japan.