Did you know that Hanko is one of the best souvenirs you can get from Japan? If you prefer to buy small and portable novelty gifts for your loved ones and friends, or as a memento of your fantastic travel experience, Hanko could be the best option. It is not only affordable, but you could also avoid paying excess baggage fees at the airport on your way home.
But what is this carved stamp widely used in Japan? Why is it best to purchase as a gift or as a souvenir? Where can I buy in Japan, or can I order online too? This post will provide helpful answers to these questions. Read on and learn more about this Japanese stamp.
What Is The Hanko Seal For?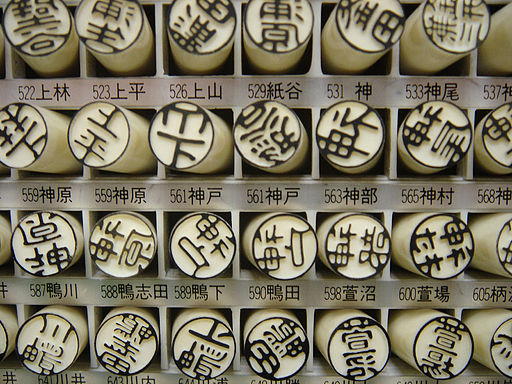 Hanko(the stamp), or inkan(the signature) are Japanese-style personal stamps with your engraved name, similarly to signatures in Western countries.
The method of sealing documents by using one's fingerprint pressed onto the clay was originated in China in the 3rd C.E., where the idea also of carved stamps was born. 
This traditional Japanese craft was first used only by the Emperor and his closest comrades. Then, the noble class utilized this method of signature.
Samurais and warriors during the Feudal Era began using the red ink in Hanko. After the Meiji Restoration, most of the people have started using the Hanko method of signature. Since then, all classes of people in Japan have wielded Hanko.
Because of the contemporary tradition of Hanko, this custom has not been abolished even though Japan is one of the innovative countries when it comes to technology.
Hanko or Inkan is being used widely by locals and even non-locals up to this day for signing job contracts, renting an apartment, signing artworks, and even setting up a bank account.
Perfect practical gift
You can find Hanko in 100 yen stores if you have a common name. Don Quijote stores throughout Japan have Hanko Boxes near the shops' entrances. If you are looking for a Hanko souvenir, it is practical to order one from these stores.
This kind of cheap gift will likely incur a small tax or possibly even nothing at all. You will not have trouble paying extra pennies for baggage excess. Unlike expensive and heavy gifts, Hanko is a way more affordable and practical gift you can ever give.
Japanese-style memento
Do you want a flabbergasting souvenir? The Japanese style is somewhat unique and will be the best memento you will ever have. The distinctive art, decorations, designs, and authenticity of Hanko portrays your rich, cultural adventure in Japan.
The Round type is a suitable size for up to 7 English letters. On the other hand, the square type is a suitable size for up to 12 English letters.
The Seven Font Styles are also very cool. You can get to choose your text styles from below.
First, Kointai which is a traditional style and is very easy to read with the round corner characters.
The second is the Kissoutai which is based on ancient Chinese characters, this style is somewhat old but cool.
The third is the Tenshotai, the font style with balance and symmetry.
Fourth is the Reishotai, a classy font style that originated from China.
Fifth, Gyoshotai has a brush font style and is semi-cursive and bold.
Sixth, the Soshotai is very unique and stylish.
Lastly, the Kaishotai is recognized for its square appearance and is commonly used for postcards.
Best-personalized gift
A personalized gift is something you want to share a special connection with someone closes to you. Choosing a gift such as a Hanko stamp would portray that deep bond. A PERSONALIZED Hanko would define the significance of your deep relationship.
This personal seal can be made from jade stone, plastic, wood, or metal. Materials such as tsuge and buffalo horn(white or black) are used. Your name in either English, Kanji, Hiragana, or Katakana can be carved inside the seal. This will then be enclosed in a case with an ink pad inside.
If you want to give this as a gift to your friends or loved ones, you can have their names engraved on this unique Japanese stamp. What a cool and unique gift idea!
Recommended Hanko-related activities in Japan:

Enjoy the handmade Hanko seal experience in Kamakura, Tokyo! Craft your own Japanese Stone Seal in Osaka!
Hanko seal symbolizes the Japanese culture. You can use them to stamp your books and letters. You can also use them for your collection hobby. Indeed, a perfect souvenir from Japan.
Before you decide to order a Hanko, you must know the style you have to purchase. It has seven styles and four kinds of (Jitsu-in, Ginko-in, Mitome-in, and Gago-in). Each has different uses.
Mitome-in is the unregistered Hanko, generally used for souvenirs, gifts, and everyday transactions. This knowledge will help you differentiate Hanko regardless of its registration and style.
1. Kaishotai/Regular Script
Very simple and clear. Easy to read and mostly used for souvenirs and gifts. This is the most familiar Hanko style as of today.
2. Soshotai/Cursive Script
With the ultimate style of writing, Soshotai is by far, the difficult one to read. However, because it is very unique, it is also satisfying to users.
3. Reishotai/Clerical Script
Reishotai is a style with well-balanced and harmonious writing. Kanji characters will look wide. Easy to read and elegant.
4. Gyoshotai/Running Script
Defined as beautiful and graceful, this style is for calligraphers. Easier to read but you might still like it.
5. Kointai
You will be impressed by its friendly nature. Unique writing but also well-balanced. To the Hanko community, this style is the most famous one. A traditional Japanese style Hanko.
6. Insoutai
It is the safest style that prevents signature forgeries because this type has a complex seal design. For this, it is more legible compared to others.
7. Tenshotai/Seal Script
It is the oldest among the other styles. Tenshotai uses the original Kanji. You can see this text style mostly from Japanese yen bills. Because of these famous impressions, office workers and companies use this font style. But you can still choose this one for souvenirs.
Where to buy Hanko Stamps?
Hanko is not difficult to find as there are several shops or Hankoya scattered everywhere in Japan. These include vintage Hanko shops wherein you can request personalized ones. Apart from the discounted chain stores like Don Quijote and 100 Yen Stores that offer numerous affordable personalized seals, our list of recommended shops/Hankoya features both mortar stores and online stores in Japan.
Shinimonogurui Stamp Shop | 邪悪なハンコ屋 しにものぐるい
FEATURES:
You can find the samples of Hanko they can make for their customers on their wall.
You can also add decorations next to your carved name on the stamp. Decorations such as a bear, shoebill, cat, rat, kangaroo, and a rabbit are available.
You can also get to choose colors of your ink, orange, black, red, blue, and green.
LOCATION:
Located at Yanaka Ginza Shoten-gai in Tokyo(3-11-15 Yanaka, Taito-Ku, Tokyo). From Nippori Station, walk until you get to the Sunset Stairs, known as Yuyake Dandan. The stamp shop is located close to the entrance.
OPERATING HOURS: They are open from 12:00 pm to 6:00 pm every day except on Tuesdays.
Price Range:
¥2,600 for a 10mm sized Hanko
¥3,500 for an 18mm
¥3,800 for a 24 mm size
¥5,600 for 37 mm sized Hanko
¥4,800 for a wooden Hanko, will be finished after a week
Visit their Japanese-only Website here. 
FEATURES:
They offer custom-made digital stamps which are very unique to the normal ones you can find in Japan.
Avail of their service through online mail-order if you are in Japan.
Their unique Hanko is engraved in both Kanji and English Alphabet.
LOCATIONS:
Hanko Land Oimachi / Bunbukudo Inbo
Located at 5-7-12 Higashioi, Shinagawa-Ku, Tokyo 140-0011.
Their shop is a 3-minute walk from the Oimachi Station on the JR Keihin Tohoku Line, Tokyu Oimachi Line, and Rinkai Line.
They are only open on Mondays to Fridays from 10:00 am to 6:00 pm.
They accept cash payments in Japanese yen and all major credit cards.
Kyoto Speed Hankodo / Matsuya Inban
Their store is located at 9 Nishinokyo Nakaho-Cho, Nakagyo-Ku, Kyoto 604-8461 which is a 5-minute walk from the Emmachi Station on the JR Sanin Main Line (Sagano Line).
Only open on Mondays to Fridays from 9:00 am to 7:00 pm.
Likewise, they accept cash payments in Japanese yen but do not accept credit cards.
REMINDER: If you are currently outside Japan and you want a UNIQUE Hanko delivered to you, Dual Hanko is what you are looking for. But due to high delivery costs, Dual Hanko does not offer their online services to customers OUTSIDE Japan. 
This digital stamp can be used only on online documents which means you can't use them on physical papers. However, if you want a physical and customized Hanko, you can ask your Japanese friend or a family to purchase one at Dual Hanko, then have them deliver it to you. Or you can visit Japan and purchase one as a souvenir. 
Visit their online shop here.  
Hanko Vending Machines!

Visit any Don Quijote in Japan and you will find a Hanko box. This machine will prepare your seal in just a few minutes. The process is very simple. The interface lets you design your Hanko, and the simple mechanics: press the green button to proceed or press the red button to go back.
Hanko is indeed your best souvenir from Japan. The unique seal embodies your name and signature. This also shares the memories of your Japan adventure. So, get the best good-looking Hanko from Japan now!