Although Japan is a cash-based country, which means payment through cash has been widely practiced in the country ever since, using prepaid cards brings more advantages nowadays. 
Starting pandemic, this payment method becomes more trendy as it is more convenient and safer than handling cash even the Japanese government have campaigned for it.
Using prepaid cards in transportation and other establishments has been a while now in Japan. Even syncing them to your mobile wallet because mobile payment in Japan is also acceptable.
Japan actually has different types of prepaid cards to use for shopping, internet reloading, and more. If you want to learn more about Japan's prepaid cards, this article will help you with the following information:
What is a prepaid card in Japan for? 

The advantages of using prepaid cards in Japan

What are the three types of prepaid cards? 

How to use, recharge, and check the current balance of your prepaid card?
What is a Prepaid Card in Japan for?
A prepaid card or Preca is a magnetic card provided by several companies in Japan. This secure card has a preloaded cash balance that allows you to pay for services and goods. Some have an attached IC or microchip, making it more convenient to pay. By simply tapping your card to an IC card reader at the cashier, the transaction is done. 
Also, if you find it hard to apply for a debit or credit card in Japan, these easy-to-obtain prepaid cards can make your online shopping possible.
And you would not have to obtain a bank account because you can actually purchase them at convenience stores.
It was created in Japan in the year 1992 by the leadership of the former Nippon Telegraph and Telephone Public Corporation. They developed the Felica or felicity card. The Felica system is de facto standard in Japan. It can be used as electronic money or mobile payment. Some companies support this system, including Edy, Rakuten Edy, iD, NTT Docomo (also deployed to a limited degree in Guam and China), nanaco, Seven & I Holdings Co., Osaifu Keitai, quickly, Japan Credit Bureau, WAON, and AEON Group. Plus, it is used in public transportation payment, and some can be used as electronic money as well. Major cards include Hayakaken of Fukuoka in City Subway, ICOCA of JR West, Kitaca of JR Hokkaidō Manaca, Meitetsu of public transportation in the Tōkai region (includes Nagoya), nimoca of railways, and buses in Kyushu, PASMO of railways, and buses in Kantō region (includes Tokyo), PiTaPa of railways, and buses in Kansai region, SUGOCA of JR Kyūshū, Suica of JR East and TOICA of JR Central.
Prepaid card is very convenient but can be used effectively ONLY inside the country. That said, using a Japanese prepaid card inside the country is the best when we talk about the advantages to the users.
The Advantages of Having a Prepaid Card
Can be purchased in any convenience store.
Can be used repeatedly until the balance reaches zero.
Can be reloaded.
Saves the trouble from carrying changes from a small amount of payment.
Saves the hassle from collecting coins from buying in vending machines.
Cards are light and easy to carry.
You can accumulate and receive points and rewards.
Some cards are developed to prevent and stop forgery
Can be registered on a mobile phone by using a unique number
To prevent theft, it has a registration number
It has a wide variety of designs
Cards can be collected and recycled
Some used prepaid cards can be exchanged to a new one when a certain amount of cards is reached.
The stores will also benefit. They will save time in cash management, they can reduce the need to maintain an adequate supply of changes and add up cash on hand after stores close and they can cut down the risk of theft and loss.
Getting one or more prepaid cards is easy in Japan. Even students who are 13 years old can get one easily.
How to get a prepaid card?
You can get any prepaid cards that are sold at ticket
vending machines
in many stations throughout Japan. Prepaid cards are also available at 
major airports
such as Tokyo's Narita and Haneda. Prepaid cards such as apple pay and google pay are available at any
convenience store
. Rakuten Edy cards can be purchased at merchants like Lawson and Mini Stop.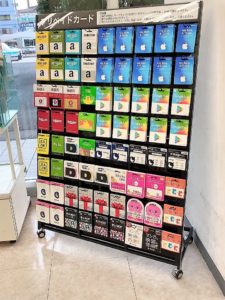 To get your IC prepaid cards for transportation, here are the things you need to consider.
You should know what the card is being used in the city you're visiting.
Look for the machines bearing the name, select English in language preferences, and follow the instructions. Choose a blank card, not the commuter type (personalized and reduced-fare children's cards are also available).
The initial purchase price is 2,000 yen. They will deduct 500 yen serving as a deposit. You can add 1,000 or 2,000 yen for emergency purposes such as dining or added transportation and this is not a big amount to lose when the card is misplaced.
The Different types of Prepaid Cards in Japan
General-purpose reload type
ANA Mileage Club ANA JCB prepaid card ( All Nippon Airways, JCB) ANA Mileage Club membership card

ANA Mileage Club VISA prepaid card ( All Nippon Airways, Sumitomo Mitsui Card ) can be used as a visa card

Bundled card -VISA. There are both virtual cards and real cards on the app. No points are given.

Visa Travel Prepaid Card Global Money ( Travel Bank ) -July 2009, released by J TB Group Travel Bank. It is a product that can be used atVisa member stores and Visa affiliated ATMs outside Japan and replaces Travelers' Checks, and has an electronic money character. The acceptance of new applications will end in March 2012.

JAL Global WALLET ( Japan Airlines, JAL Payment Port )

mijica ( Japan Post Bank, Credit Saison ) -From January 23, 2017, Visa prepaid card, which is issued for a limited number of regions at post offices directly operated by Japan Post Bank and some post offices in Sendai and Kumamoto After that, Sapporo City and Chiba Prefecture were added. If the customer is 12byears old or older and has a comprehensive account passbook of Japan Post Bank for which a cash card issuance procedure has been completed, it will be issued immediately. The cards of Sendai City are Musubi Maru, and the cards of Kumamoto City are Kumamon. Issuance in other regions will be decided by looking at the future situation.

Rakuten Bank Prepaid Card (JCB) ( Rakuten Bank )-A JCB prepaid card that can be issued by Rakuten members who use Rakuten Bank accounts. Charge from the Rakuten Bank account balance. Once charged, the balance cannot be returned to the Rakuten Bank account.

Aqua Card (Komeri Capital) -A member's card with a point card function for Komeri stores or Komeri.net users that can be used as JCB prepaid. A membership fee of 100 yen (tax included) will be charged at the time of issuance.

Cash Passport (Mastercard Prepaid Management Services Japan)-Card for overseas use, Mastercard brand

Cocokara Club Card (Credit Saison) -A point card with a VISA prepaid function issued at stores of each brand operated by Cocokara Fine Healthcare

Docomo Account Visa Prepaid Card ( NTT Docomo ) -A service for Docomo account users, which was originally a virtual card only as a one-time card for online payments, but with the start of issuing substantial cards, A card issued to applicants for a fee.
Kyash (Kyash) -VISA. There are both virtual cards and real cards on the app. It is also possible to transfer the balance between individuals.

LINE Pay Card -LINE Pay service that was originally developed on LINE was made possible by using JCB's prepaid card mechanism at actual stores. At the beginning of the service, points for 2% of the usage amount were returned for the purpose of popularizing the service, but from the usage on June 1, 2018, the point return rate will e up to 2% according to the usage record Was changed.

Money T Global ( J TB * Aplus )-VISA, card for international use only. Forcardholderd s without ICs, if they did not apply for switching, the expiration date was raised and  e card was unusable and abolished. In August 2018, the issuer moved from J TB to API-US.

NEO MONEY ( Creddy Saison )-Visa / UnionPay, card for overseas use only. There  e two types of Visa, one for domestic use and one for foreign countries only (exist g members who have issued foreign-only type can switch to domestic type if desired). UnionPay is for foreign countries only. Seven Bank ATMs (VISA only, in-house ATMs  e also available) are used for charging, but it is also possible to transfer to one of seven l designated bank/credit bank accounts.

NE Teller Prepaid MasterCard (Optimal Payments) – but is issued in the base of the UK region of NETeller, the application also available in Japan address, in Japan, ATM (which may MasterCard drawer of foreign-issued a convenience store ATM By using, etc.) For example, you can withdraw in Japanese yen. It can be issued overseas and applied in Japan.

Parco plica (Credit Saison) – Chofu VISA prepaid card, which is issued in the Parco Fukuoka Parco. Charges can only be made by a charge machine installed at the issuing store, cash charges from Japan Post Bank ATMs, or credit charges by Saison/lJC cards. Regardless of the store you use, 0.5% of the amount spent will be cashed back to your prepaid balance on the 10th of the following month.

Pikoka (Credit Saison) – Derishia and user palette VISA prepaid function point card for the user. Supports cash and credit charges by ATMbat Delicia U-PaIette stores and ATMs at Hachijuni Bank.

Manepa Card ( Money Partners ) -MasterCard brand prepaid card issued by Money Partners. If the company has FX trading, the spread can be applied at the time of withdrawal. Initially, it was only for overseas use, but from June 2016, it can be used for domestic settlement without switching.

Lawson Osaifu Ponta ( Creddy Saison )-JCB prepaid card licensed as JCB prepaid and with the JCB logo with a holomagnet stripe to prevent skimming. The end of service was announced on August 17, 2020.

Softbank card (SB payment serv•ice) -Combined VISA prepaid card and T point card In addition, "SoftBank Card", which is a synonym, is a credit card issued by Credit Saison and is different from this card.

Tay Two Card (Card Flex Japan, Aplus) -VISA prepaid card with integrated point card function that can be used at old book stores and recycle shops operated by Tay Two. Due to business continuity issues at Cardflex Japan, a wholly-owned subsidiary of TayTwo, the issue was suspended, and those that did not reach the expiration date were gradually replaced with only point cards, and CardFlex Japan was liquidated in 2017.

Travel Prica (JCB) -JCB prepaid. Can be issued by J TB Travel Point members. It can be used only in Japan and can be charged from group stores (including PTS Travel Navi excluding affiliated stores), Pay-easy, JCB credit, and Lawson cash register.
WebMoney Card ( au payment ) -WebMoney points can be used as MasterCard brand prepaid cards. The au Wallet prepaid described below uses the infrastructure of this card. You can also charge at au shops au WALLET prepaid card ( KDDI, Okinawa cellular phone au payment)-May 2014, a prepaid card of the MasterCard brand that au started offering. Can be used together with web money. Initially, it was simply called au WALLET, but since the au WALLET credit card (credit is issued under the VISA brand and Master Card brand) issued by KDDI Financial Service was started later, au WALLET prepaid It became a card. (In addition to the au shop counter, some stores can be charged by an automatic charging machine. Also, some banks can charge from internet banking) d card prepaid ( NTT Docomo, Sumitomo Mitsui Card ) -MasterCard prepaid and iD prepaid function with d point card. One ticket can be issued for each line.
Virtual Card Type
A virtual card is a card that can be used only for payment on the Internet. In addition to the following, Mitsubishi UFJ Nikos, Orient Corporation, Jacks, etc. have already targeted their own credit members and can be prepaid online from a credit shopping number and use a number different from the original credit member number. The expression virtual card is set.
• V-Preca ( life card ) — Visa virtual card. You can also purchase a substantive card by
POSA at a convenience store.
House Card Type
House cards are those that can be used for payments are limited to products and services of a specific company.
Amazon Shopping Card/Amazon Gift Certificate — Cards that can be used with Amazon /Javari.

Ameba prepaid card — Used for payments with " Ameba operated by CyberAgent.

AEON Gift card ( AEON Retail )
Book Cards– The ones with magnetic cards have changed to those with QR codes.
Brastel Smartphone card rechargeable international calling card.

COMA prepaid card — au ( KDDI / Okinawa cellular phone For mobile phones.

CoGCa — Available only at stores of some CGC Group member companies. As a point card, a complete house card only for issuing chain stores (the logo of the member store is on the card surface). The prepaid card function can be used interchangeably between issuing chain stores.

Comica card — Softbank. Mainly for international calls.

CosmoGold CosmoGold Card — Rechargeable international calling card.

ENEOS Prica —A card that can be used with the Quo Card.

Fumi Card (formerly Ministry of Posts and Telecommunications * Japan Post Agency *Japan Post * current postal business ) — Payment of stamps, postcards, and postage. Sales discontinued after April 2003, abolished on September 30, 2006
GREE prepaid card — GREE coin prepaid card. Used for GREE payments.
HMV Gift Cards — Cards that can be used at HMV. There is charge type and disposable type.
IC Telephone Card (NTT East/West) — Suspended at the end of March 2006.
Idemitsu Cash Preca — Idemitsu Credit
iTunes Card • AppStore Card – Apple iTunes the iTunes Store will be used in the settlement at the time of paid App purchase, which is sold in.

JA-SS Purika-A card that can be used with Quo Cards.

JCB PREMO ( JCB ) – at convenience stores and some of the regional banks and second-tier regional banks based JCB franchisees of the card company, also possible card purchase of a tangible by POSA.

KDDI — OK card. PIN sales method International calling card.

KDDI Super World card KDDI. Mainly for international calls.

Knowledge Card — Abolished
Library card
Mac Card — A card that can be used at all of McDonald's stores in Japan.
Mobage Mobacoin Card ( DeNA ) — Used for payments on Mobage and Yahoo! Mobage.
Mobiles check card — NTT DOCOMO. Ended sales on March 31, 2012.

majica ( Don Quixote )

Nintendo prepaid card ( Nintendo ) — Used for payment when purchasing paid software sold at Wii •s " Wii Shopping Channel " and Nintendo DSi •s " Nintendo DSi Shop " and Nintendo 3DS " Nintendo eShop Old Nintendo point prepaid card.

Prepaid card, pj card — (at that time, SoftBank Mobile). It has been abolished.

Pucky Card ( Japan Leisure Card System Panny Card ( Japan Game Card ) —A rental ball prepaid card that is required when playing on a pachinko machine called a CR machine. Introduced in 1990.

Pretty Card, Pretty Card ( Tucer (KDDI)) — Abolished on March 31, 2008, due to the end of the Tuker service.

PLAZA STYLE GIFT CARD — Cards available at PLAZA.

PlayStation Network Card ( Sony ) — Used for payment when purchasing paid software sold at the PlayStation Store.

Odds card (JRA system service) —A prepaid card dedicated to the odds box (terminal that prints and issues paper with the odds ) installed at the horse race track and WINS of the Central Horse Racing ( JRA ).

QUO card

Rakuten point gift cards – Rakuten Rakuten Super Point available on the card.
Seiyu Shopping Card — Seiyu

SB Calling Card (SB Cyberpass) — Mainly for international calls.

SkyWorld SkyWorld. Rechargeable international phone card.

Soft BankBoth sides Of SoftBankprepaid card for 3,000yen

Softbank prepaid card ( Softbank ). For mobile phones.

Starbucks card ( Starbucks )

Touhou International — Rechargeable international phone card.

Telephone card ( NTT East / West Japan ). For public phones.

U-card — It was used at Idemitsu gas stations and McDonald's Japan. Abolished in March 2003.

Vivaplus — Rechargeable international calling card.

Windows Store Gift Card (Microsoft) — Same design but with the same effect as the Xbox Gift Card above.

World prepaid card — NTT Communications. Mainly for international calls.

Xbox Gift Card ( Microsoft ) — The old "Microsoft Point Card." Name changed to Xbox Gift Card due to local currency conversion. Used for payment when purchasing paid software sold on Xbox Live and Windows Store. However, the Windows Store supports Windows 8.1 and PCs and tablets with Windows RT 8.1 or later installed ( installed Limited to Xbox 360 on Xbox Live.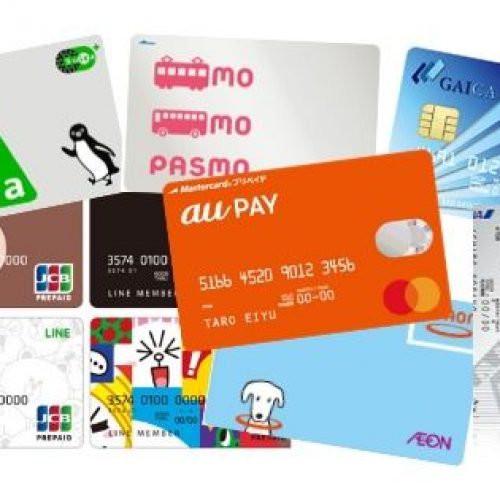 10 Best Prepaid Cards to Use in Japan
GAICA
WAON
ANA VISA prepaid card
Rakuten Edy
Suica
Pasmo
AU
Softbank
Docomo d-card
LINE Pay Card
How to use your prepaid card?
For Transportation
When you go through the ticket gates at the station, bring your prepaid card close to a contactless reader and you'll hear a beep.

In exiting from your destination station, repeat the procedure and the fare will be automatically deducted from the value stored in the card.

The cards themselves don't display how much money is left, but small screens next to the contactless readers often do. An alarm will sound if the card doesn't have enough funds. Then the gate will automatically tell you (in Japanese) to reload your card while blocking your exit. You can reload at a fare adjustment machine (seisanki 精算機), which usually have yellow panels, near the ticket gates. Some cards allow you to register a credit card so reloading is automatic.

When using prepaid cards on a bus, you will have to waive it near the contactless reader when boarding; you may or may not have to it again when disembarking. The driver can also help you reload the card.

When you don't need your prepaid card anymore, you can get your 500 yen to deposit back, along with the unused credit minus a 220 yen handling fee, at a ticket office of the company that issued the card.
For paying goods and services
If you are a student or a foreign worker, this is for you! Get your desired goods.

Go to the cashier.

Tap your card or simply place your card on the reader at the cashier counter.
Payment in a vending machine
Tap your card first.

Select your desired beverage by pushing the button underneath the beverage. Please note that you can choose a hot or cold drink. Hot is indicated in the red-colored button while the cold one is the blue-colored button.

Pick up the bottle of drink from the bottom of the vending machine.
How to recharge prepaid cards?
IC cards or transportation cards
You can recharge or reload your IC cards at ticket machines and special re-charging machines found at railway stations and other strategically meaningful locations. Prepaid cards can also be recharged at stations of companies other than the issuing company, e.g. Suica can also be recharged in Osaka or Fukuoka. The maximum amount to be charged onto a card is 20,000 yen.
Shopping prepaid cards
You can top up your cards from 1,000 yen to 50,000 yen at over a hundred thousand of stores in Japan. Just ask the cashier to charge your card.
How to check the current balance?
The current credit balance is shown on a small display whenever you pass a ticket gate or make a payment at a store. Furthermore, the balance can be checked at ticket machines together with a usage history.
Prepaid Cards on your mobile phone
Modified by Felica Networks, Mobile FeliCa is a modification of FeliCa for use in mobile phones. Felica Networks is a subsidiary company of both NTT
Docomo and Sony. DoCoMo has developed a concept of mobile phone-based on Mobile FeliCa and has developed a wide network of partnerships and business models. Au as well as SoftBank have also licensed mobile FeliCa from FeliCa Networks.
The Osaifu-Keitai (おサイフケータイ) system (literal translation: "wallet-phone") was developed by NTT DoCoMo, and introduced in July 2004. Later, Vodafone( Softbank) and AU introduced the product in their own mobile phone ranges under the same name. Using Osaifu-Keitai, multiple FeliCa systems (such as Suica and Edy) can be accessed by using a mobile phone. On January 28, 2006, au introduced it's Mobile Suica which is used primarily on the railway networks owned by JR East.
On September 7, 2016, Apple announced the feature of FeliCa technology through Apple Pay. Apple users who purchased iPhone 7or Apple Watch Series 2 in Japan can now add Suica cards into their Apple Pay wallets and tap their devices just like regular Suica cards. Users can transfer their balance from the real Suica card to the Apple Pay wallet. They can also create a virtual Suica card in the wallet from the JR East application. On September 12, 2017, Apple also announced its new iPhone 8, iPhone X, and Apple Watch Series 3 models which feature "Global FeliCa", i.e. NFC-F and licensed FeliCa middleware incorporated in all devices sold worldwide, not just ones sold in Japan.
On October 9, 2018, Google announced that the latest Pixel device, the Pixel 3, would support FeliCa in models purchased in Japan. The feature enables support for WAON, Suica, and various other FeliCa-based services through Google Pay. The Osaifu-Keitai system is also supported by this feature. Successor models including the 3a and 4 hold the same support of Mobile Felica in Japan-sold models.
Prepaid Card or Preca
is a magnetic card that can be used in transportation,
shopping
, and dining. This puts the user to advantage for many reasons. It is hassle-free and it gives you a comfortable journey without having to bring coins and changes from bringing cash. Plus, you can avail and have one in a very easy way. You can purchase them at convenience stores and stations and can be reloaded easily. There are many prepaid cards in Japan and it is a wise move to learn about them. If you are traveling to Japan, there is no doubt that you need to get one or more. Yes, prepaid cards in Japan are worth getting.
FAIR Japan
provides useful information about Japan.